The Finns have arrived to the Adriatic coast in the Make it Healthy edition! :)
I first made this fenomenal buns during the Easter holidays. We loved them so much I had to make them again, especially when you too asked me for.
This were not only my first cinnamon buns, but it was my first encounter with cardamom as well.
I find the taste of cardamom in doughs extremely appetizing, so I definitely reccomend to use it more often when you have the chance.
250 g spelt flour flour
220 g wholegrain wheat/spelt flour
175 ml milk
1 pack of action dry yeast (7 g)
1 vanilla pod or 10 g of vanilla bourbon sugar
a pinch of Himalayan salt
1 straight tsp of cardamom, minced
2 eggs
60 g Demerara sugar
60 g butter, melted
60 g butter, melted
100 g Demerara sugar
1 big tbsp ceylon cinnamon
For a fine texture of sugar, you can replace it with light Muscovado sugar.
Egg wash (1 egg + milk) for coating the buns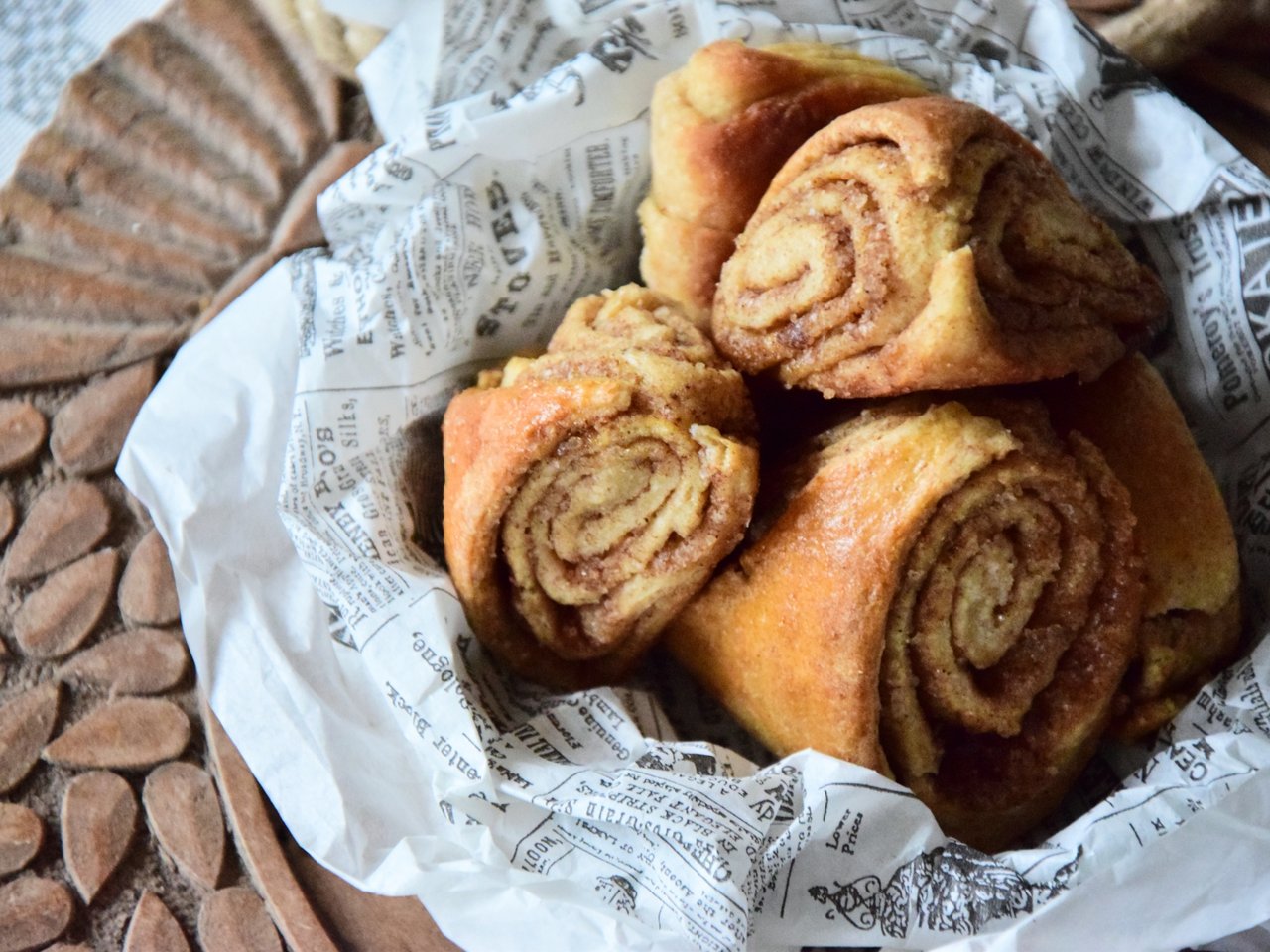 In a large bowl combine the flours with a pinch of salt, the sugar, cardamom and the yeast.
Heat the milk until it warms just a little bit.
Add the vanilla sugar in the milk, or the seeds of one vanilla pod.
In a different bowl beat the eggs with the agave.
Combine all the wet ingredients (incuding the milk and the melted butter) and the dry ones with a mixer.
The dough will get quite thick but still wet and soft.
Don't worry, it should be like that.

Knead the dough on a floured surface, adding as much flour you need to ease you work.
Don't add a lot of flour, because the dough will get too hard.
There is no need for you to knead a long time, just a minute or two will be enough.
Transfer the dough on a transparent foil, cover it and let it rise for at least one hour on a warm place.

Prepare the cinnamon spread.
Pour the melted butter over the sugar and cinnamon.
You will get a smooth and thick texture that you'll use to smear on the dough.

When the dough has risen enough and has softened, transfer it again on a floured surface and divide it into 2 or 3 parts.
This way you will get smaller and eye catching buns, later.

Roll the first dough in a rectangled shape and use a brush for smearing the cinnamon mixture on its whole surface.

Don't smear to much of the spread and neither too little. Find a golden middle.
Roll the dough from the shorter side to its end and slice triangles with a sharp knife.

Transfer the buns on a baking tray lined with parchement paper and smear the egg wash all over them.
You can sprinkle some brown sugar on the top if you like.

Do the same procedure with the rest of the dough.

Bake on 180 C degrees until they get nice and golden. It will take approximately 20 minutes. Be careful not to overbake them because in that case they won't be as soft as they should be. 

Leave the buns to cool on a wire rack and enjoy!

You can freeze half of the buns, they will be extremely soft and tasty when taken out.