Crumbly dough, a refreshing ricotta cheese, lemon & coconut filling, all completed with your favourite fruit...summer is here!
Galette is a french word indicating various types of flat round or freeform crusty cakes, in this case made with wholegrain spelt flour.
I enriched its taste with coconut, lemon and ricotta cheese and freshened it with nice blueberries. You can also use strawberries, plums, peaches or other sorts of berries by choice.
Also, coconut can be substituted with your favourite nut flour.
175 g wholegrain spelt flour
25 g psyllium husks
a pinch if Himalayan salt
30 g coconut sugar or fine brown sugar
1/2 tsp cinnamon
100 g ghee butter
40 ml cold water or almond milk
250 g ricotta cheese
45 g coconut flour*
45 ml agave syrup
lemon juice**
*You can also use nut flour as well.
**I used a juice of half a lemon,  about 1 tbsp.
fresh berries or some of your favourite fruit.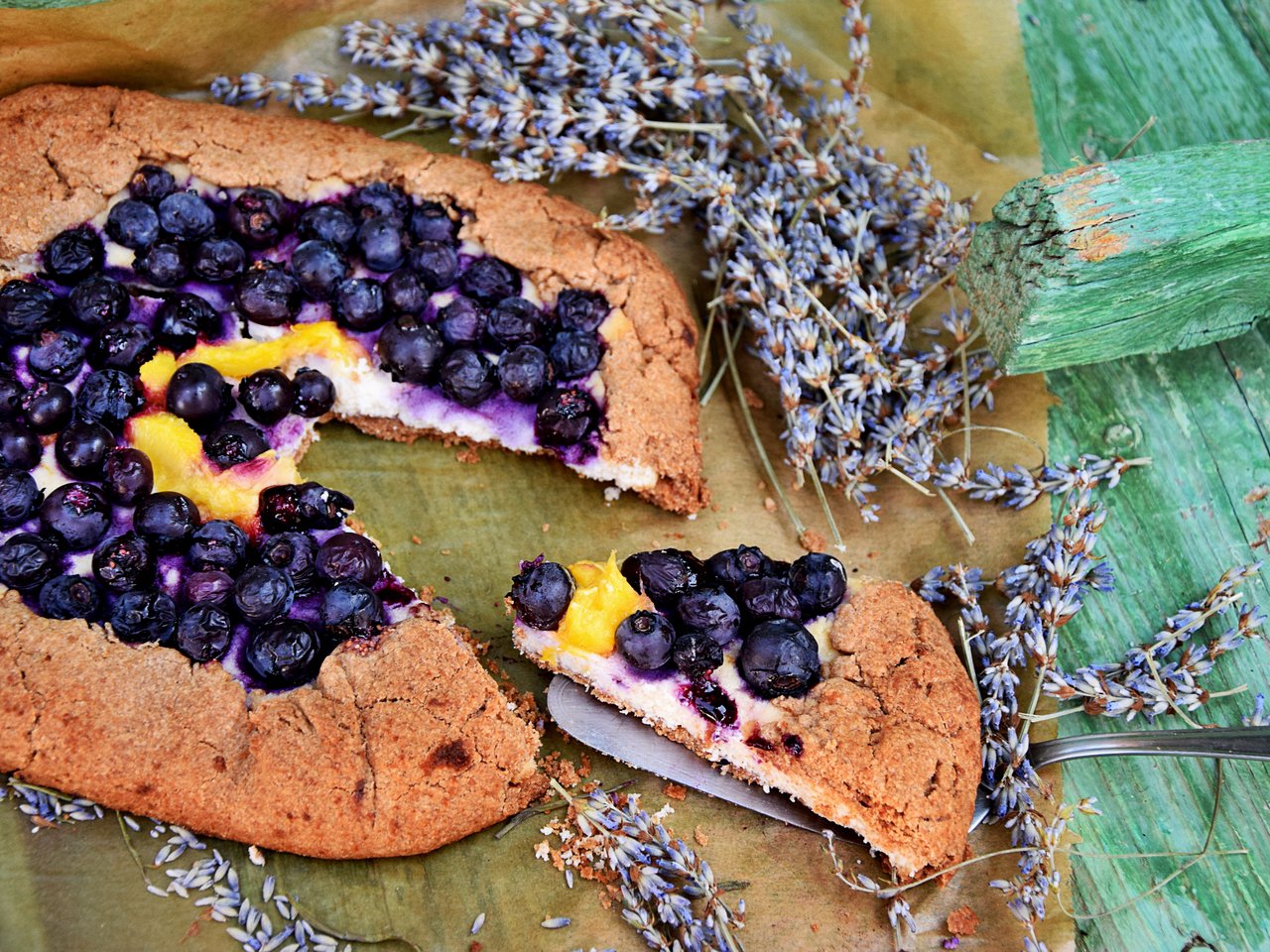 Dough preparation
Stir all dry ingredients in a bowl.
Add the cooled ghee butter and stir shortly or work the crumbly dough with your hands. Pour in the water and kneaad the dough combining all the ingredients well.
Wrap your finished dough in a transparent foil and leave to cool in the fridge for 30-45 minutes.
Meanwhile, prepare the filling.
In a different bowl combine the ricotta cheese with the coconut flour, agave syrup and lemon juice by hand. Stir nicely until everything is well incorporated.
Roll the dough you've chilled in the fridge on a tray lined with parchement paper in a desired shape. Spread the filling all over it, leaving the edges free so you can close them later, pressing them gently over the filling, towards the middle.
You can arrange the fruit right away on the filling or take out the galette after 15 minutes of baking and quickly do it then before returning it into the oven..
Close the edges, forming the shape you've chosen for your galette and bake on a preheated oven on 180 C degrees, for about 35 minutes, or until a nice crust has formed.
Take the galette out of the oven to cool. Leave it on the tray you've baked it to set and then it is ready to serve!