Who would know that the Podravka chutney would blend so well into CRACKERS!
A completely new edition of these delicious, crumbly, crunchy crackers.
Mediteranska jela u sebi sadrže samo najfinije sastojke i začine, pa zašto ne uživati i u takvim krekerima?!
Maslinovo ulje, ružmarin, feta sir, masline i najfiniji blago uprženi ajvar napravljen sa paprikom, patlidžanom, češnjakom i feferonima...ovi sastojci već vode dobitnoj kombinaciji!
Malo soli, brašna i vode i evo super zaraznih zalogajčića.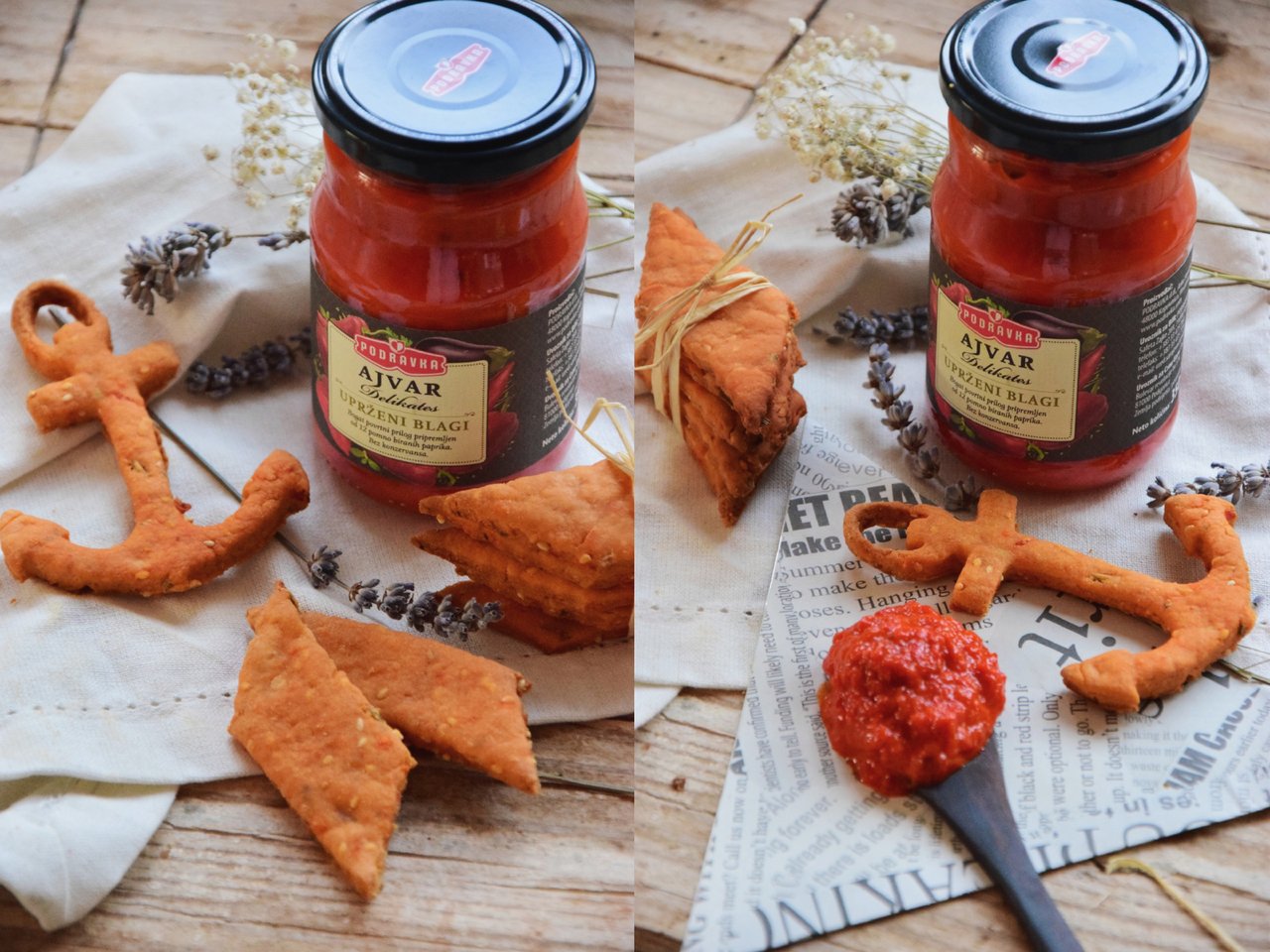 200 g pirova brašna
150 g kukuruzna brašna
1 1/2 žličica Himalajske soli
1 žličica praška za pecivo
100 g blagog uprženog ajvara
20 g sezama
1-2 grančice svježeg ružmarina/ 1-2 žličice sušenog ružmarina
5 zelenih Podravka maslina
30 g feta sira
75 ml hladne vode
125 ml maslinova ulja
Promiješati prvo suhe sastojke, zatim postepeno krenuti sa ajvarom, uljem te vodom.
Dodati i feta sir, masline, ružmarin i zatim dobro sjediniti sastojke.
Miješati ručno, drvenom špatulom i nastaviti rukama kako bi oblikovali tijesto.
Prije valjanja tijesta, može se ohladiti u frižideru cca 1 h kako bi lakše rukovali sa istim, ali može se i odmah razvaljati na debljinu od 0,5 cm.
Izraditi željene oblike kalupima za kekse, posložiti na pleh obložen masnim papirom i peći na 180C stupnjeva otprilike 20 minuta.
Krekere čuvati u zatvorenoj limenoj/staklenoj kutiji.
Savršeni su snack sami za sebe ili uz omiljeni dip.