Immortella - for natural and organic skin care!
Immortelle for beauty and longevity.
I have first discovered Immortella cosmetics about a year ago, when I actually got the chance to collaborate closely with this amazing croatian brand and learn the way the products are made and the effect they have on the skin.
It is not the first time I write about Immortella and there is definitely a reason why I do that. ;)
Immortella is not only a natural cosmetics brand, but also organic, whose biggest inspiration and main ingredient is immortelle itself, the signature of the brand that constantly reminds us of its strenght and quality, it grows from the rock and its flowers never fade, containing the secret of natural beauty - a golden essential oil with magnificent properties.
Every product is handmade and formulated in their small lab from beginning to end that ensures a high quality and fresh product in the hands of the customer.
Immortella's formulations are based on organic cold pressed vegetable oils and butters as well as pure and natural plant extracts, all from organic origin and all products are paraben/silicone/colours/fragrances free.
Behind this amazing brand there is a beautiful young lady Marija from the area of Makarska which, with the help of her husband, runs their own firm that grows more and more, slowly but surely.
In Immortella's selection  you will find my top 3 products, following down below and also the remaining products:
- face cream
- hand cream
- lip balm
- face tonic
- floral water
- facial oil
- dry body oil
- body lotion
- 100% pure natural organic immortelle essential oil
The entire selection has a delightful smell/scent that take your mind into nature and soothes not only the skin but your thoughts as well.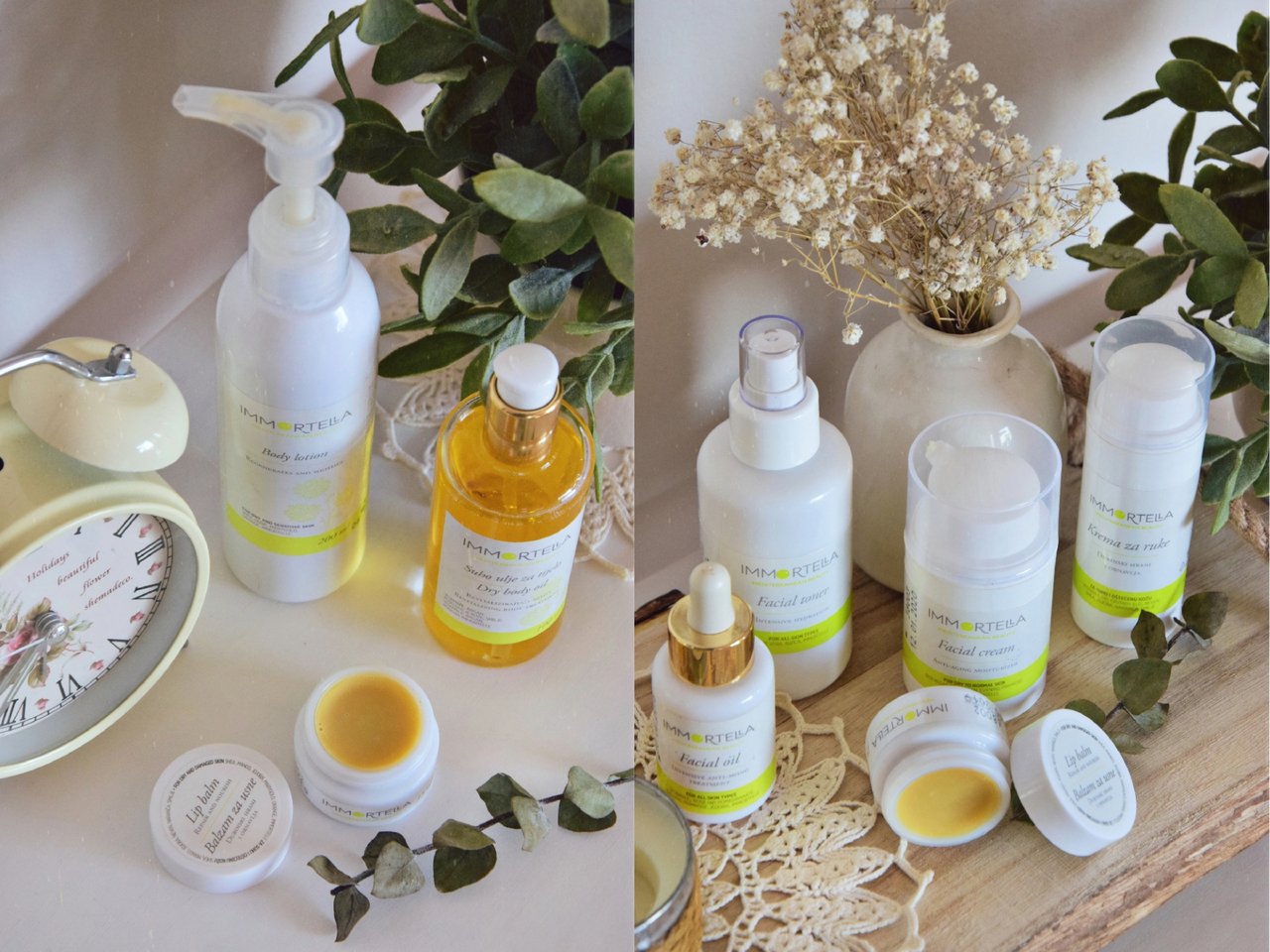 All the products mentioned above can be found on Immortella's web shop:
On the same website you will find all the shops where you can purchase the products in Croatia and in the other countries of the region, but what makes me very proud and excited is that now, you can also find them in all Dm shops around Croatia. :)
My daily skin care routine includes: face tonic, face cream, hand cream and lip balm; from time to time with the addition of the facial oil and dry body oil.
I definitely invite all of you the support the brand by checking them out, I promise, you won't be disappointed, you'll thank me for the recommendation!