Great vegan patties that can last a few days if stored in the fridge that you can even bring as a take-away lunch to work.
Pack them up in a tortilla, flatbread, naan or put them in a salad.
I found my inspiration from Dunja Gulin's cookbook and from the internet of course, you can bake them or fry them on a bit of olive oil (I find it much tastier), they have a gentle mild taste and become complete when you use spices.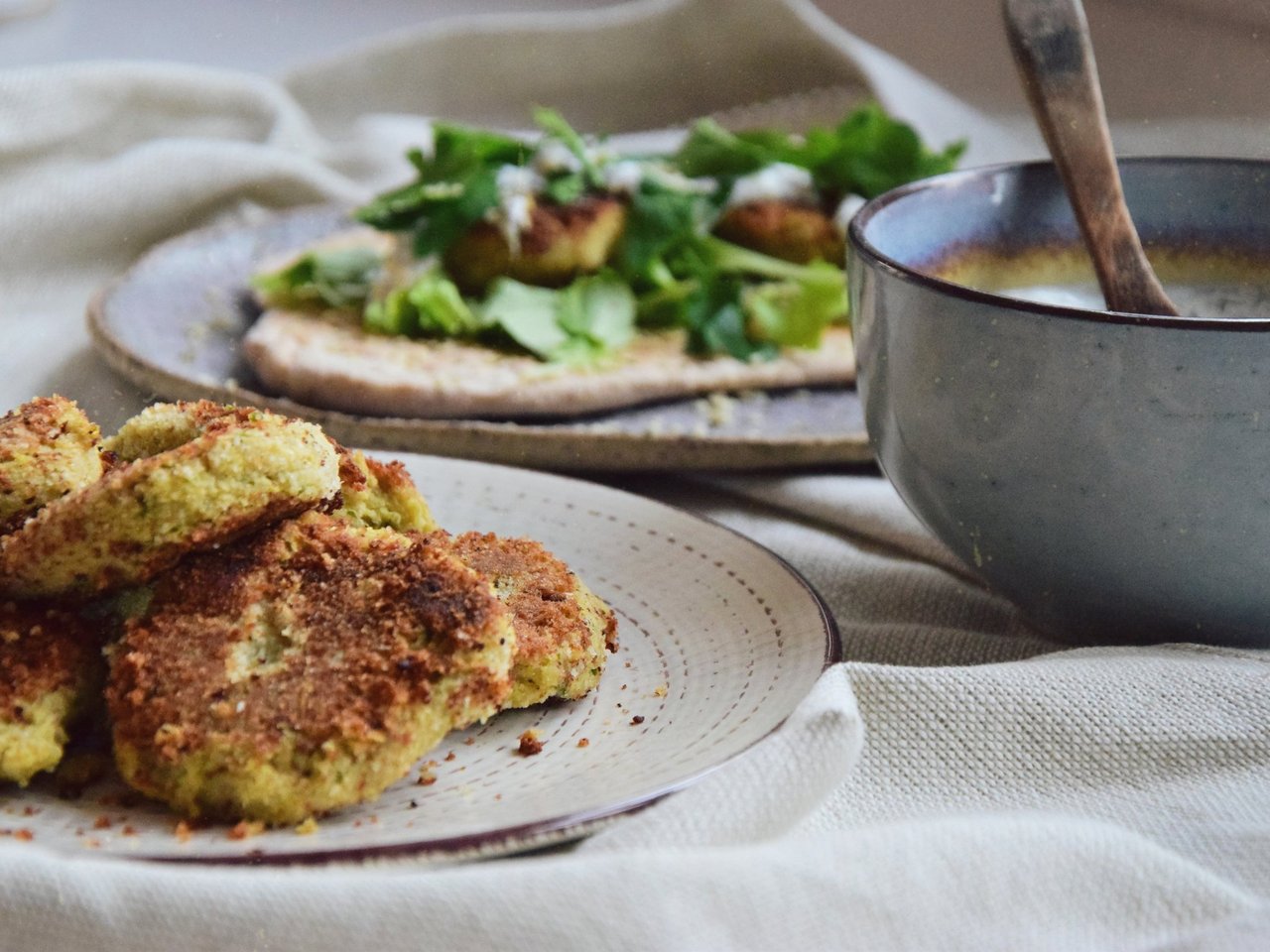 100 g leek
130 g quinoa
250 g cauliflower
240 g cooked and rinsed chickpeas
20 g fresh parsley
1 1/2 tsp Himalayan salt
1/3 tsp powdered cumin 
1 tbsp tahini paste
1 1/2 tbsp yeast flakes
1/2 tsp ground coriander
olive oil
bread crumbs for the patties you make on a pan
*For a vegeterian version you can use a bit of feta cheese or another one instead if the yeast flakes. About 50 g should be enough.
Yogurt dip (not vegan)
Stir a few tbsp of yogurt with granulated garlic and dried dill.
Adjust the ingredients to taste.
For a vegan version, use vegan yogurt.
Chop the leek and cook it a little bit over medium heat on a pan drizzled with some olive oil and water. Let it soften.
Cook the quinoa following the instructions on the package (1:2), I usually rinse the quinoa before cooking because it prevents the quinoa from being bitter after cooking.
Chop the cauliflower on larger pieces and steam it until slightly softened ( do not overcook it).
Place the cooked quinoa, cauliflower, rinsed cooked chikpeas (you can use canned ones), fresh parsley, leek and tahini in a food processor and blend shortly. Add the spices and blend some more. Pay attention to the mixture and be careful not letting it become soggy or too soft, it must be incorporated nicely but easy to manage with your hands and form your patties.
Use your hands to form small balls out of the mixture, press gently the ball between your palms, roll in bread crumbs and fry on a pan drizzled with some olive oil on both sides.
If you decide to bake them, coat them with olive oil on both sides using a brush and lay them on a bakind tray lined with parchement paper that you've previously also brushed with a bit of olive oil.
The patties that you decide to bake can be pressed a bit more on the top.
Bake on 190C degrees for about 20-25 minutes.
I personally prefer the "fried" ones, because they are softer and moister from the inside and have a beautiful crunchy crust on the outside.
Serve on some homemade naan with yogurt dip, some veggies and hulled hemp seeds.
*The preparation time varies depending on wheter you bake them or dry them and also if you've prepared your ingredients (like quinoa,cauliflower) in advance or straight away for this recipe.