Waffles have always been like a scary wonderful recipe I've never had a courage to make.
They look and taste amazing, there are many possible variations, from soft to crispy, classic to those with unusual additions.
I looked at my peanut flour and decided to use it for waffles for the first time, so I pulled out my old waffle maker and got a scrumptious dessert in about 10 minutes!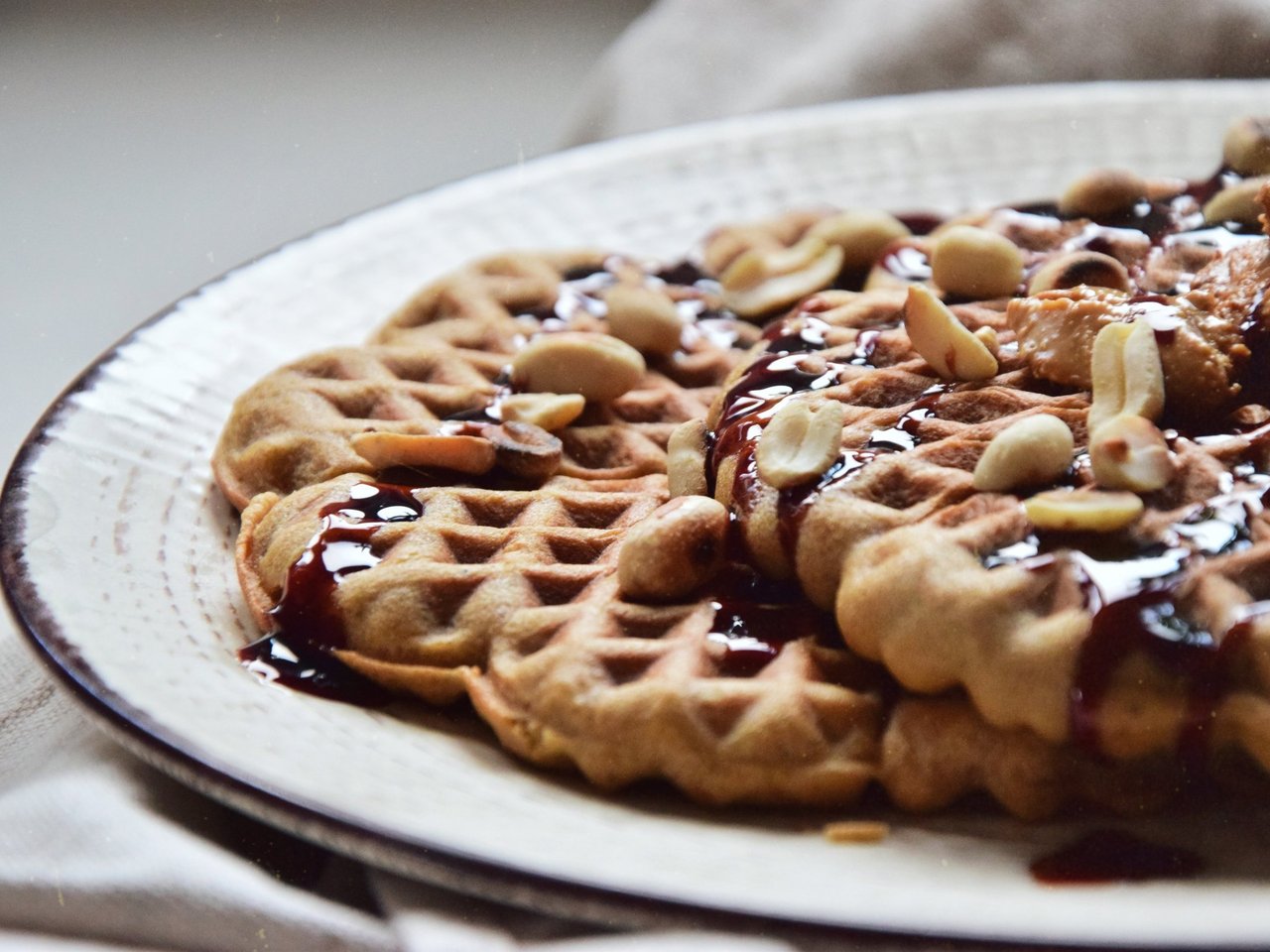 For the waffles
140 g extra virgin coconut oil
65 g coconut palm sugar
3 eggs
pinch of Himalayan salt
10 g arrowroot powder
1 tsp cinnamon (or a bit less)
100 g spelt wholegrain flour
50 g peanut flour
1/2 tsp baking powder
1 tbsp rum
*The waffles aren't very sweeet because I used coconut palm sugar, so if you want them to be sweeter, you can add a bit more of it. If you decide to serve it, like I did, with date syrup and peanut butter, then I believe this amount of sugar will be enough. 
Topping
Date syrup
Peanut butter
Raw peanuts, roasted (not salted)
If you really want to go overboard, you can even add some melted dark chocolate on top.
Melt the coconut oil over low heat then transfer into a different bowl. Add in the sugar, salt and cinnamon, whisk and leave aside to cool for a bit.
Add the rum and gradually, whisk in the eggs, one by one.
Lastly, slowly add the flours combined with baking powder and arrowroot powder, contantly stirringn to get an even mixture.
On a heated waffle maker (I used the heat on 4, mine is from Lidl) that you've previosuly greased with coconut oil, pu a dollop of a mixture in the middle and cover the lid (3-4 large tbsp of the mixture). Leave it for a minute to "bake" , control how it goes by opening the lid, especially if you make them the first time.
Once there is a nice beautiful crust on the waffles, take them out and place on a wire rack or serve immediately as described above.
Do not place them one of top of the other, beacuse they might get soggy.