This year I was feeling kind of brave and made for the first time a traditional Easter bread that we eat in Croatia, called "pinca".
I made a few changes of the classic recipe to make it healthier and I can proudly announce that it was just perfect!
It is actually a mix of the croatian easter bread and the bulgarian Kozunak. Soft, with a gentle crust, not dry at all!
200 g spelt flour + 160 g wholegrain spelt or wheat flour of wheat flour 
I used 360 g of flour to start kneading the dough, but I have added maybe about 20 g to ease to job while doing it, later. See how your dough is behaving.
7 g action dry yeast
10 g vanilla bourbon sugar
1 whole egg and two egg yolks
60 g Demerara sugar
60 g butter, melted over low heat or ghee butter
a pinch of Himalayan salt
half tsp of home grown lemon zest
1 tbsp rum
175 ml milk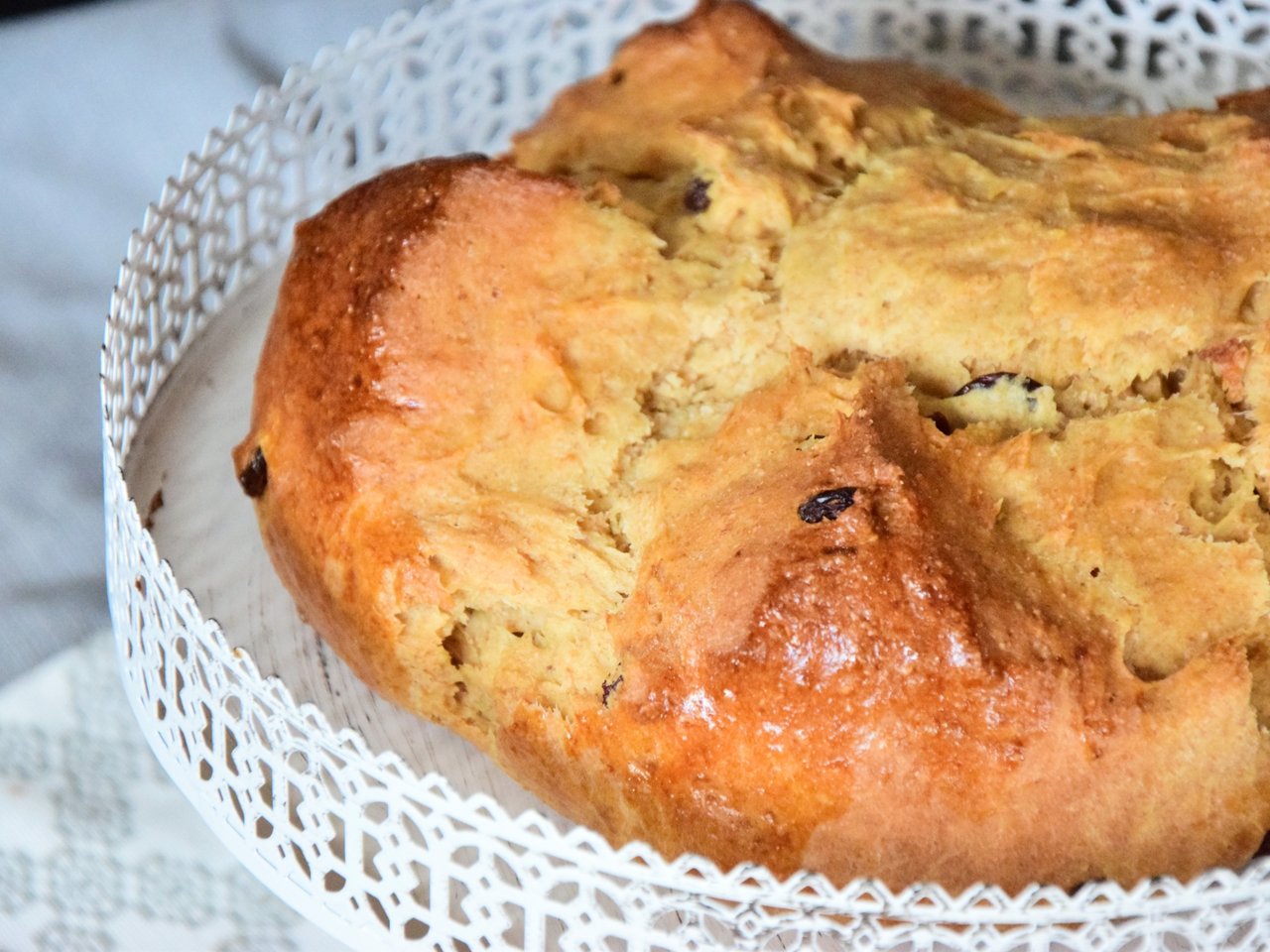 1 egg yolk from the spread
 almonds, raisins- optional
 brown sugar and vanilla sugar for sprinkling- optional
Heat the milk for a short while over low heat. It has to get slightly warm.
In a separate large bowl combine about 360 g flour with a pinch of salt, the sugar and the yeast.
I used only 360 g of flour to start with and then added just a tiny bit more afterwards because it was easier for me to see at the end how much flour I needed to add to make it easier to work, knead.
Add the egg and egg yolk and the agave. Mix.
Pour the milk with the vanilla over the flour mixture.
Add the rum and the lemon zest.
Melt the butter over low heat and the gradually pour it into the mixture, constantly stiring/mixing.
At this point, gradually add the remaining flour, if neede. The dough has to separate slightly from the walls of the bowl.

You can add almonds and raisins at this point if you like.
I didn't soak my rasins in rum before adding them to the dough, but you can certainly do that for a stronger taste.

Another option can be that you sprinke the almonds and raisins only on the top of the "pinca", or better said "kozunak"(the bulgarian version), before baking.
It's up to you!

Once you've kneaded the dough on a floured surface, cover it and let it rest for 2 hours in a warm place.
It must double it size.

After 2 hours, knead it once again, cover it and leave it to rise for one more hour.

Form a nice round shape, spread the egg yolk all over it and make a deep cut with your scissors on 4 places at the top.
You can sprinke some brown sugar on top, but I skipped that part this time.

Bake the Easter bread on 170 C degrees somewhere between 15-20 minutes.
Lower the oven on 150 C degrees and bake for another 20 minutes.

* I used domestic flour, milk and eggs that's why my bread had a beautiful yellow colour.
Can't go wrong with those kind of products!