Raw cakes with a walnut-date base given moisture by the apples and enriched with a nice cashew cream.
I developed this recipe for a gluten free Christmas edition of the magazine 100 POSTO PRIRODNO.
You will love this refreshing combination, I promise!
115 g dried dates (about 20 pieces)
180 g walnuts
25 g coconut flour
300 g grated and drained apples
1/2 tsp cinnamon
1 1/2 tbsp lemon juice
3 tbsp agave syrup
300 g raw cashews
1, 1/2 - 2 tbsp lemon juice
40 ml agave syrup
70 g hard part of the coconut milk *
*Keep the coconut milk in the fridge before using.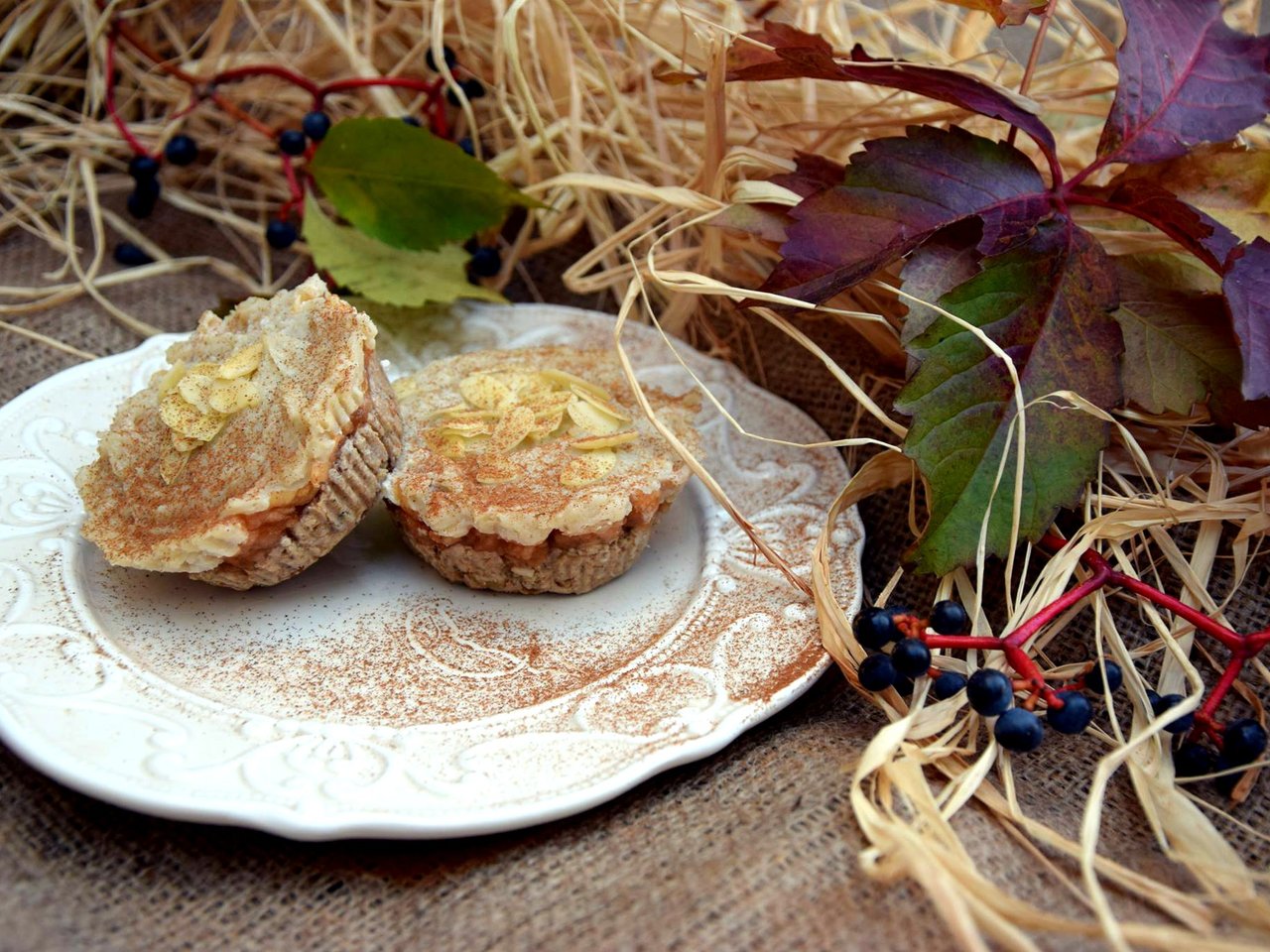 BASE
Clean the dates and soak them in warm water for 1 hour and a half.
Blend the walnuts to flour.
Add the dates with a bit of water from the soaking (about 5 tbsp) and pulse it all together.
Stir in the coconut flour and pulse a bit more in order to get a smooth, wet paste.
Use a tbsp to place the mixture evenly in the muffin tins that you've covered with parchement paper.
You will end up with 8-10 mini cakes more or less.
Place in the fridge to cool.

FILLING

Meanwhile prepare the apple filling.
Peel and grate the apples (5-6 middle sized apples) and drain the extra water from the apples.
In a different bowl stir the apples, cinnamon, agave nectar and lemon juice.

Place the filling on the walnut/date base and return into the fridge.

CREAM

Soak the cashews for at least 3 hours.
Transfer them in the blender and pulse. Pour in the lemon juice and the agave syrup.
When you start getting a creamy texture add the hard part of the coconut milk.
Continue pulsing in order to get an even thick and smooth texture.
Place the cream on top of each mini pie. Decorate with almond flakes.

Place the cakes in the refrigerator for an hour or two.
Once the cakes have hardened enough, take them out of their mold and parchement paper.
Store the pies in the fridge.