The greens give a nice touch to the flavour of the classic cottage cheese banitsa with feta.
filo pastry
450-500 g cottage cheese
1 egg
1 leek
feta cheese
mangel
Himalayan salt
ghee butter
*Yogurt for the final spread.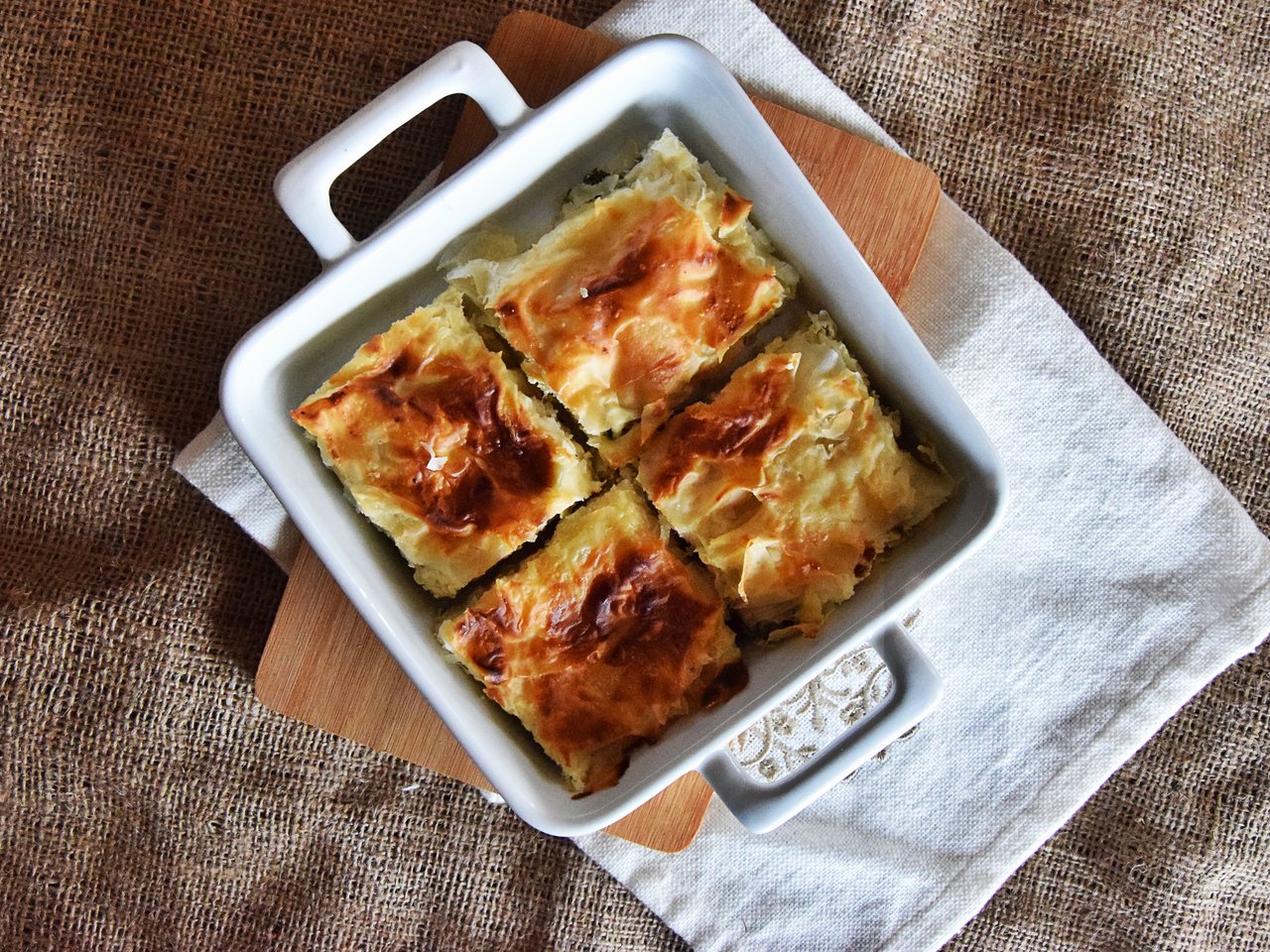 The recipe is made for a banitsa that's baked in a 25-30 x 20 cm tray.
I use a glass tray.
Simmer the leek sliced in rings over medium heat on a bit of water and some olive oil. I used one entire leek, but not the whole green part, just a bit.
When it has softened and got some colour add the mangel. I used 2-3 handful of mangel which I have washed and sliced previously.
Leave it to soften on a low heat and then turn the heat off.
Stir the cottage cheese with salt, an egg and some feta cheese. You decide how much feta you will use, but don't go overboard with it.
I used a handful and a half of feta cheese cut in cubes.
Crush all together with a fork and stir in the veggies, too.
Melt about 4-5 tbsp of ghee butter.
Smear the bottom and sides of the baking tray with the butter, using a brush.
Place 3-4 layers at the bottom then smear them with the ghee butter.
Cover the layers with half the cottage cheese mixture.
Use a few filos and pull them apart in small pieces, covering the cottage cheese layer. Pour and smear some butter over them.
Cover this layer with the other half of the cottage cheese mixture, throw some thorn apart filo on top and pour some butter over it one more time.
For the end, use 1 layer of the filo, smear some butter all over it and pres another filo on top. Cover it with a thin layer of yogurt. Use a brush to spread it al over the top.
Cut the banitsa in 12 equal pieces before baking on 180-190 C degrees for about half an hour.
Once done, leave it to cool for a bit and serve.
It is also great the next day, cold.
Bon appetit!