Crisp pastry, a light yoghurt and butternut filling flavoured with some cinnamon, vanilla and nutmeg- yuuuuum!
A crisp base that literally melts into your mouth because of the filling, but keep still crispy on the edges are just the beginning...the whole taste is completed with a light youghurt and butternut cream flavoured with some vanilla, cinnamon and nutmeg. The story ends with some nice roasted hazelnuts and almonds.
I am telling you, a bliss for our palate!
The best part is that you'll only need a food processor for the preparation of the pie.
Among other things, thanks to this recipe I won in 2014 the title of "Cook of Autumn" on the web portal Zdrava krava.
Even so, I worked a little bit more on the recipe this time and got an even better result!
Check it out and enjoy it my healthy people!
Base, diameter of mold 20-22 cm
50 g spelt flour
100 g wholegrain spelt flour
60 g walnuts
6 g powdered psyillum 
50 g tahini paste
50 g ghee butter
a pinch of Himalayan salt
30 ml agave syrup
175 g yoghurt 
250 g butternut pure
1/2 tsp cinnamon
2 tbsp agave syrup
1/4 tsp grated nutmeg
10 g of vanilla sugar or seeds of 1 vanilla pod
1 straight tsp or arrowroot powder
mixed almonds and hazelnuts

cinnamon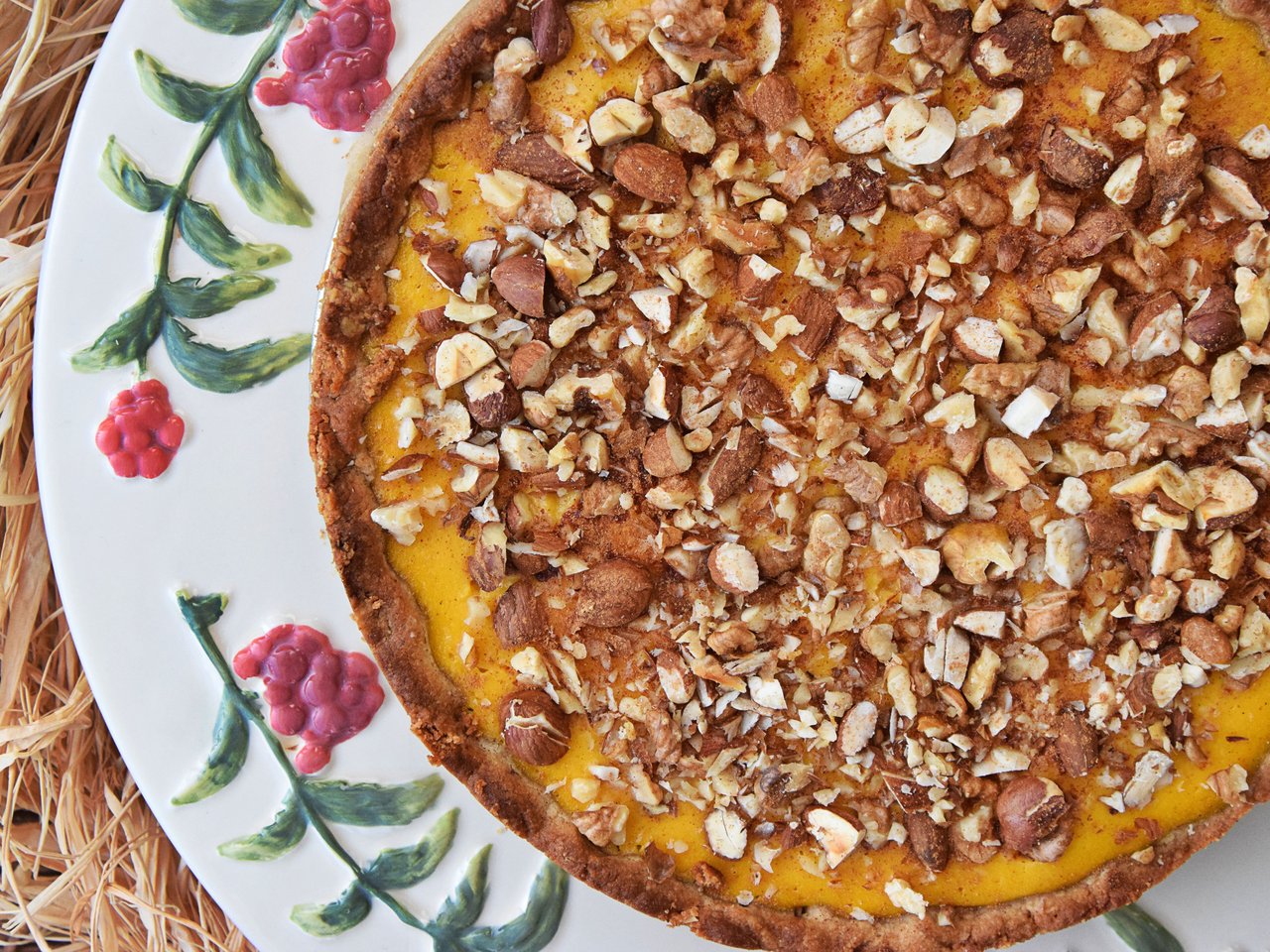 Base preparation
Use a food processor to blend the walnuts to flour. Add the remaining dry ingredients and pulse once more.
Then, add the tahini paste, ghee butter and agave syrup. Pulse until all ingredients are wll combined.
Take the mixture that you got and press it evenly onto a round baking mold lined with parchment paper. Make some nice higher edges so the cream can fit right into it.
Place the dough in the fridge for cooling for about 30 minutes or an hour.
In the meantime prepare the filling.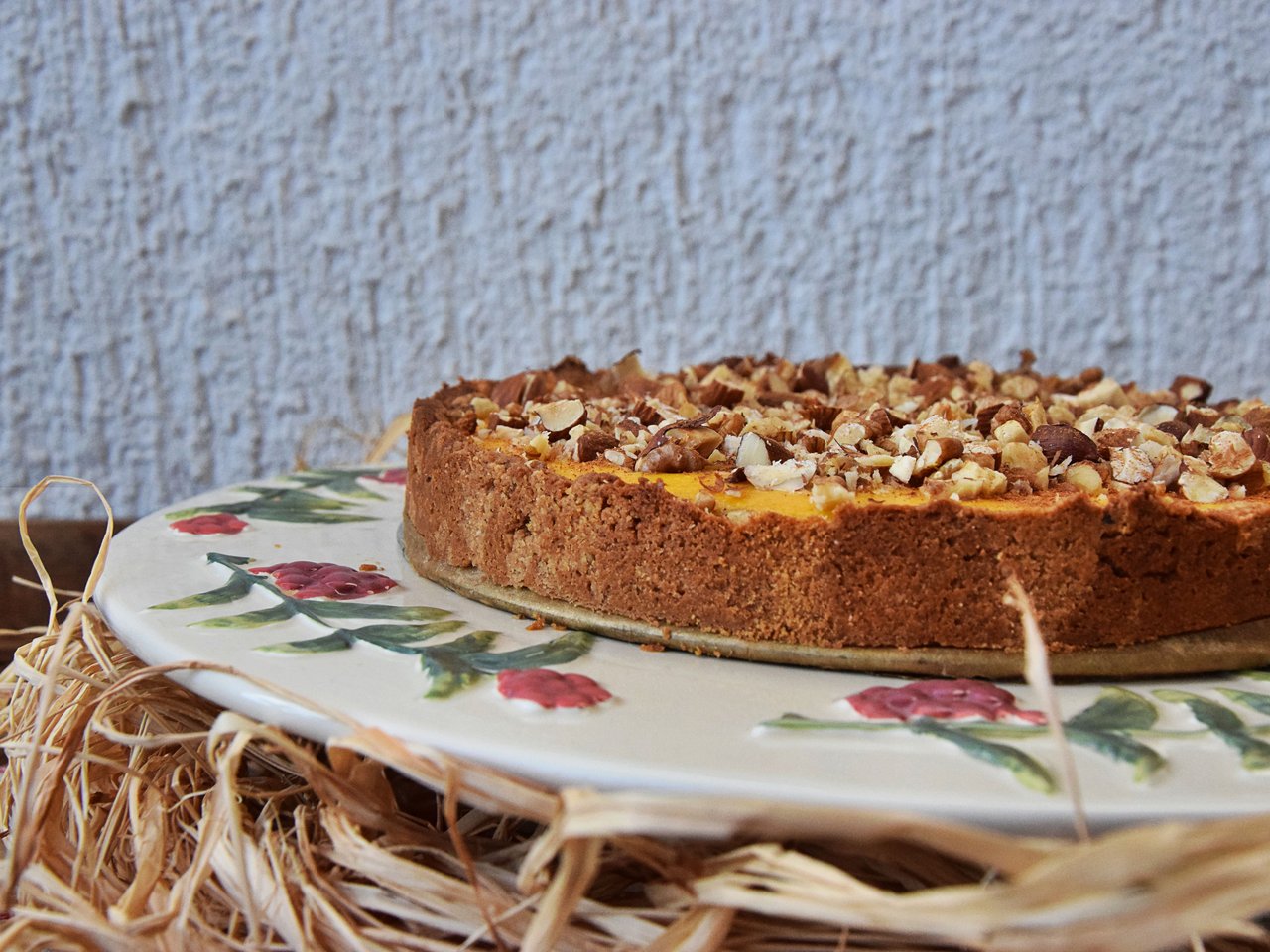 Cream preparation
Peel the butternut, wash it and slice in large chunks. Cook in water until it softens. Strain it and use a hand mixer to make a nice creamy pure.
Leave the pure to cool for a while then place all the cream ingredients in a food processor and pulse until combined. The cream won't be thick, but don't worry.
Take the chilled though and fork it so the it won't rise during baking. Bake on 175 C degrees for about 8 minutes, just enough to get a fine crust.
Take the half baked dough, pour the filling all over it and bake for additional 15 minutes. The filling will start to set. Take it out again and sprinkle some coarsely chopped nuts on top then bake again for about 7-8 minutes.
If you like, sprinkle some extra ceylon cinnamon over the pie once baked.
Leave the pie to cool and set before removing the ring of the baking mold. After some time, when it has cooled additionaly, slice the pie and enjoy it's delicious flavours!