Raw & vegan chocolate rich in taste and looks amazing, will be the perfect treat this Christmas.
Choose your own additions and create your favourite chocolate bar ever!
I bring you the basic recipe for the so called "Chocolate bark" that I've enriched with some goji berries, aronia berries, roasted hazelnuts and coconut flakes. 
You can store the chocolate in an air-tight container on room temperature with no fear of it melting. 
The preparation of this delicious treat is very simple, and it's looks, texture and flavour will overwhelm all the choco lovers out there!
A perfect dessert of the imperfect looks.
80 g cocoa butter
20 g extra virgin coconut oil
65 g raw unsweetened cocoa powder
3 žlice agave syrup
 
roasted,peeled and coarse hazelnuts
coconut flakes
goji berries
aronia berries
You can change the additions by your preferences.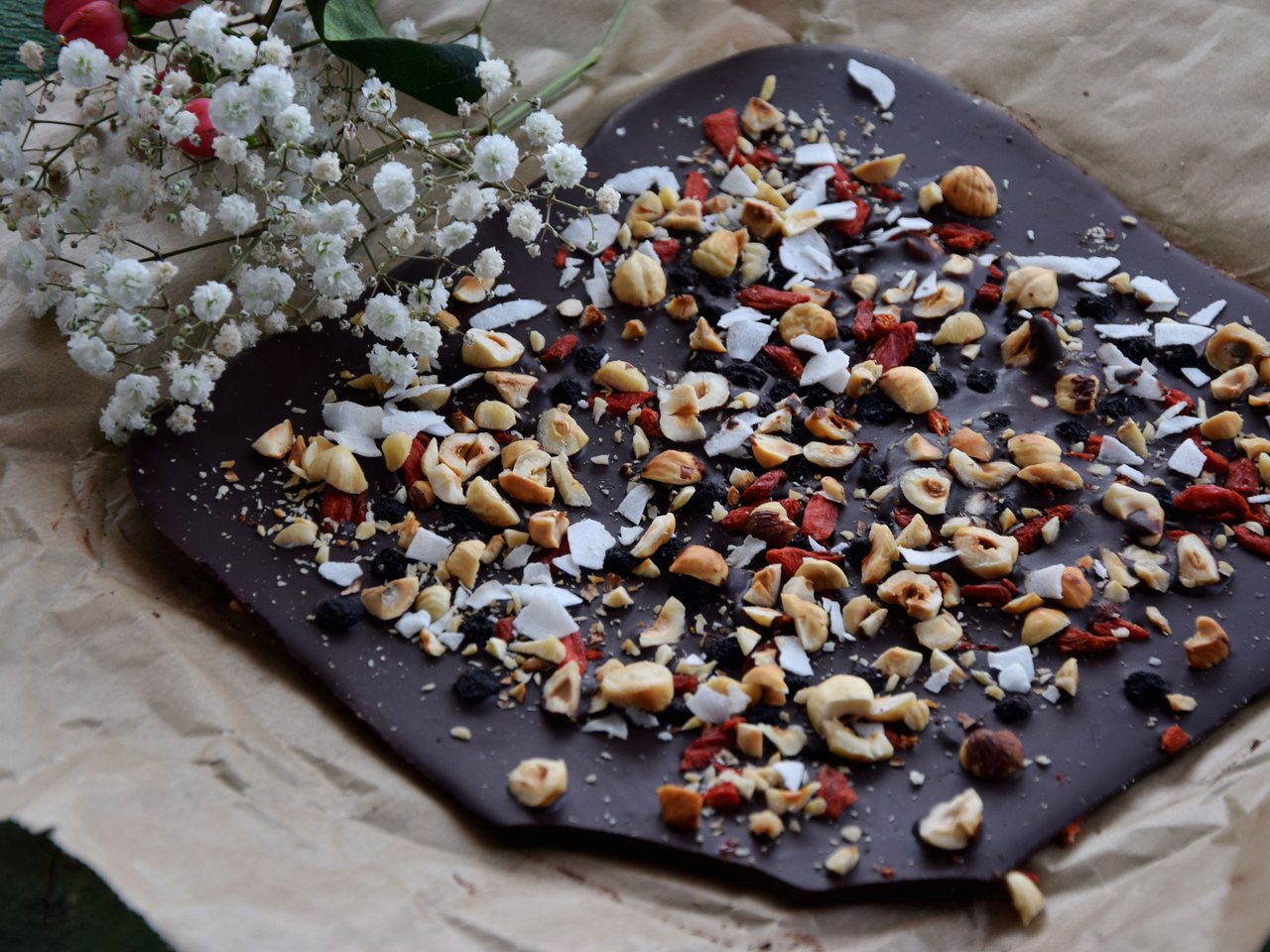 Melt the cocoa butter and coconut oil over a "bagnomaria".
Pour the oils in a separate bowl and gradually stir in the cocoa powder in order to get all the ingredients well combined.
Lastly, pour in the agave nectar and stir a couple times more.
Let the mixture stay like this for a minute or two, then stir it a few more time.
The mixture will be liquid, yet dense.

Pour the chocolate mixture over a baking tray lined with parchement paper and shape it as you wish.
The mixture must be half of your little finger thick.
Sprinkle some dried fruit, coconut or nuts all over the warm and liquid paste and leave it to harden.
Since the paste contains a large quantity of cocoa butter it will harden fastly and you won't have to place it in the fridge.
Once it is done, tear pieces of homemade chocolate apart to get this lovely imperfect "chocolate barks".
Store in a closed jar. The chocolate will hold on perfectly on room temperature, don't worry.
That's it, enjoy your Christmas treat!