Summer meal is served...spicy baked sweet potato fries, a big salad and my new vegeterian zucchini fritters with yogurt dip!
My mom has recently supplied me with all sorts of zucchini from her garden so I found myself in the search of the perfect summer meal that would be easy to make and went for fritters. :)
I was inspired by the cookbook of Dunja Gulin "Vege-burgers"  & "Krono cookbook" by Ana Gifing.
I decided not to use eggs and bread crumbs, but to make real veggie fritters with a big accent on the zucchinis and on the spices.
Sanjin and I fell in love with this meal immediately, I served them with a nice yogurt dip, for which I have written the recipe down below and with a side of baked sweet potato fries that completed the whole story perfectly.
Ingredients for the fritters
2 zucchinis, small to middle size
1-2 cloves of garlic
a big handful of finely chopped fresh parsley
a small handful of diced feta cheese
3-4 tbsp oat flour
Himalayan salt
black pepper
a little bit of cayenne pepper
a pinch of dried chive, optional*
Use spices of your personal choice.*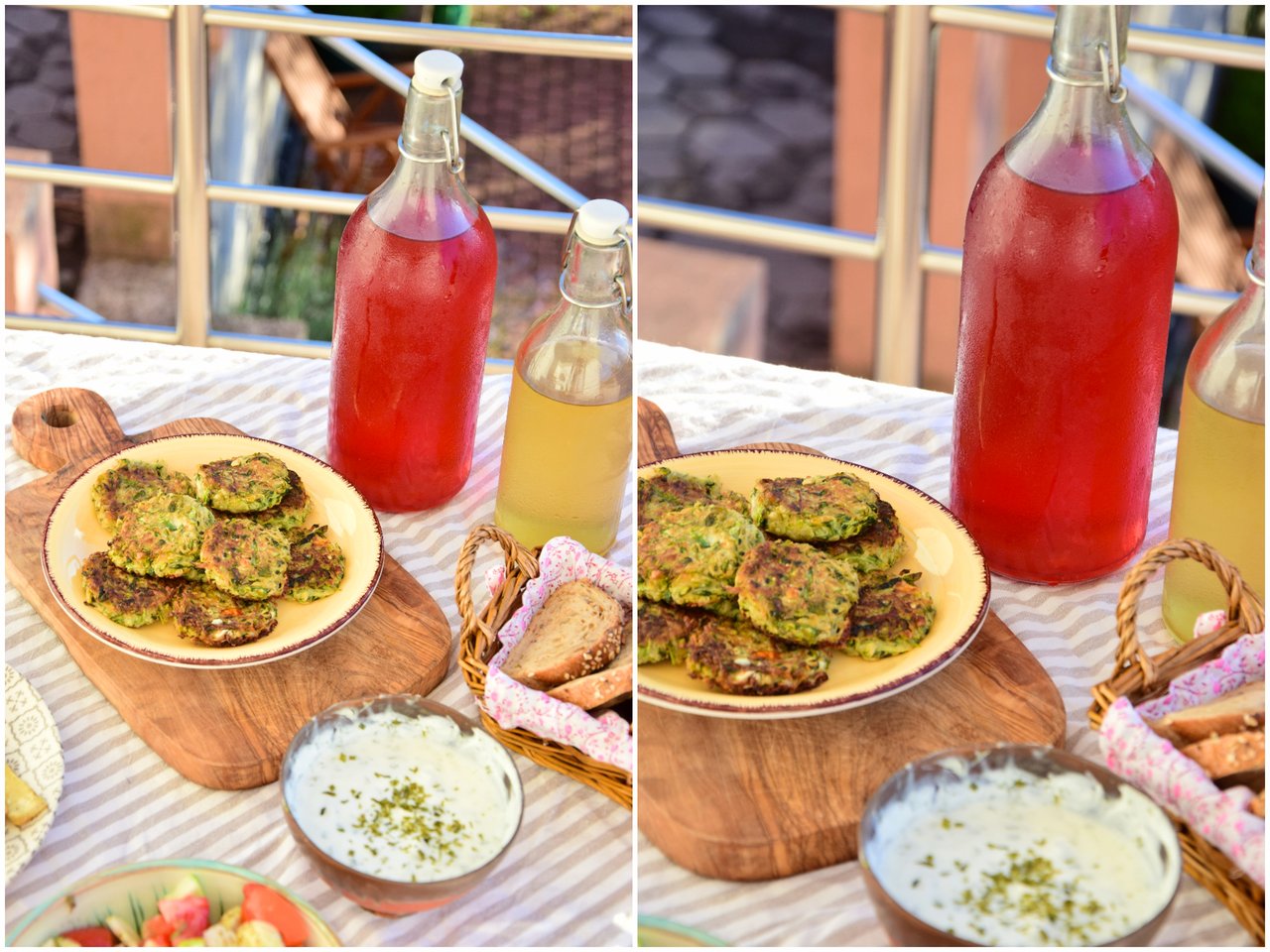 200 g yogurt*
garlic in granules, by taste
1-2 tsp of freshly squeezed lemon juice or by taste
a large pinch of dried chive**
Himalayan salt, by taste
Use as much yogurt you want and adjust the other ingredients accordingly.*
You can use fresh chive, why not?! :) **
Fritters preparation
Wash and grate the zucchinis. Season them with salt and leave it like that for about 10 minutes in order to ease the process of squeezing all the extra juice from the vegetables. 
Meanwhile chop the parsley, garlic and feta cheese.
Place the grated zucchini into a strain and try to squeeze out as much liquid you can so the fritters won't get soggy later.
Return the zucchini to your bowl and add the remaining ingredients, season it all and stir well.
Once you'll be adding the flour, you'll be able to see how much the zucchini ask for. Don't over do it though, it is just important that you are able to shape your fritters easily.
Place the fritters in a heated pan covered with a little bit of oil ( I used olive and sunflower oil) and leave them to fry on both sides for a while in order to get a nice golden crust. 
Once they're done, place them on a plate coverd with hand towels to get the extra fat drained.
The dip ingredients  should be all stired together in a small bowl and served with these beautiful summer fritters.
Add a nice salad and baked potato fries and you've hit the jackpot!