How to pack up cookies with protein… ;)
Find the ingredients on Tvornica Zdrave Hrane.
My first encounter with sesame flour resulted in these wonderful cookies filled with jam.
Well, to be honest, I had a different idea in mind when I started testing the flour. I wanted to make cookies in arabic style, with a luxurious date filling, but ended up on thumbprint cookies!
My oven worked around the clock for the entire day (poor baby) and after countless unsuccessful attempts to get vegan crumbly cookies with manily sesame flour, I combined it with my favourite, spelt flour and got a real treat.
 
Our meet up wan't the greatest one at first, but I think we are getting much more comfortable with each other because I simply refuse to give up on that wonderful taste!
Beside this nutty flavour of the sesame flour, the hazelnut butter definitely completed the taste and these become protein cookies, at last.
Sesame flour has a strong taste, so I definitely recommend to combine it with another flour, but not only because of the taste, but also to prevent too much crumbling of the cookies/cake.
You can find the sesame flour for a great price at: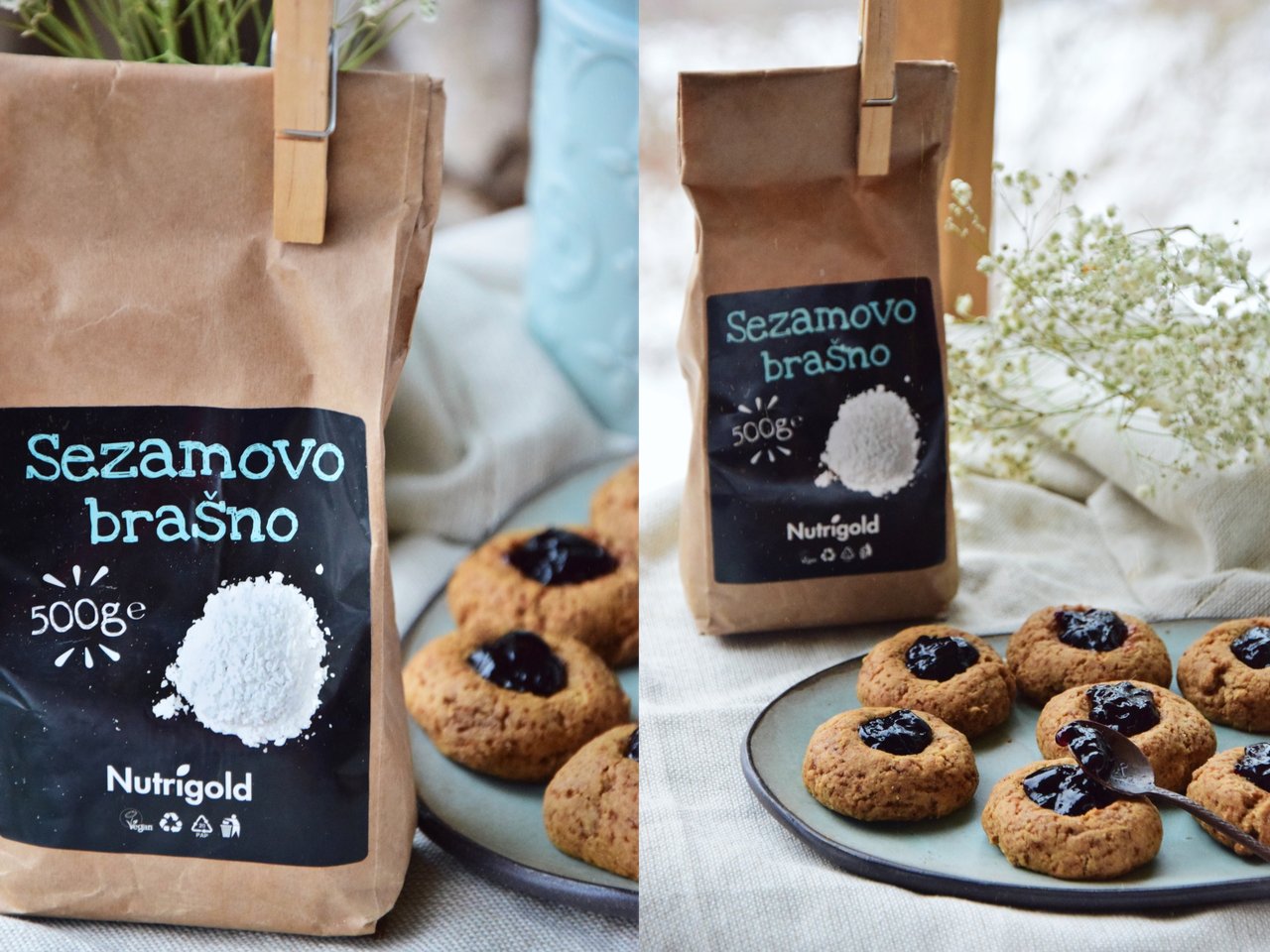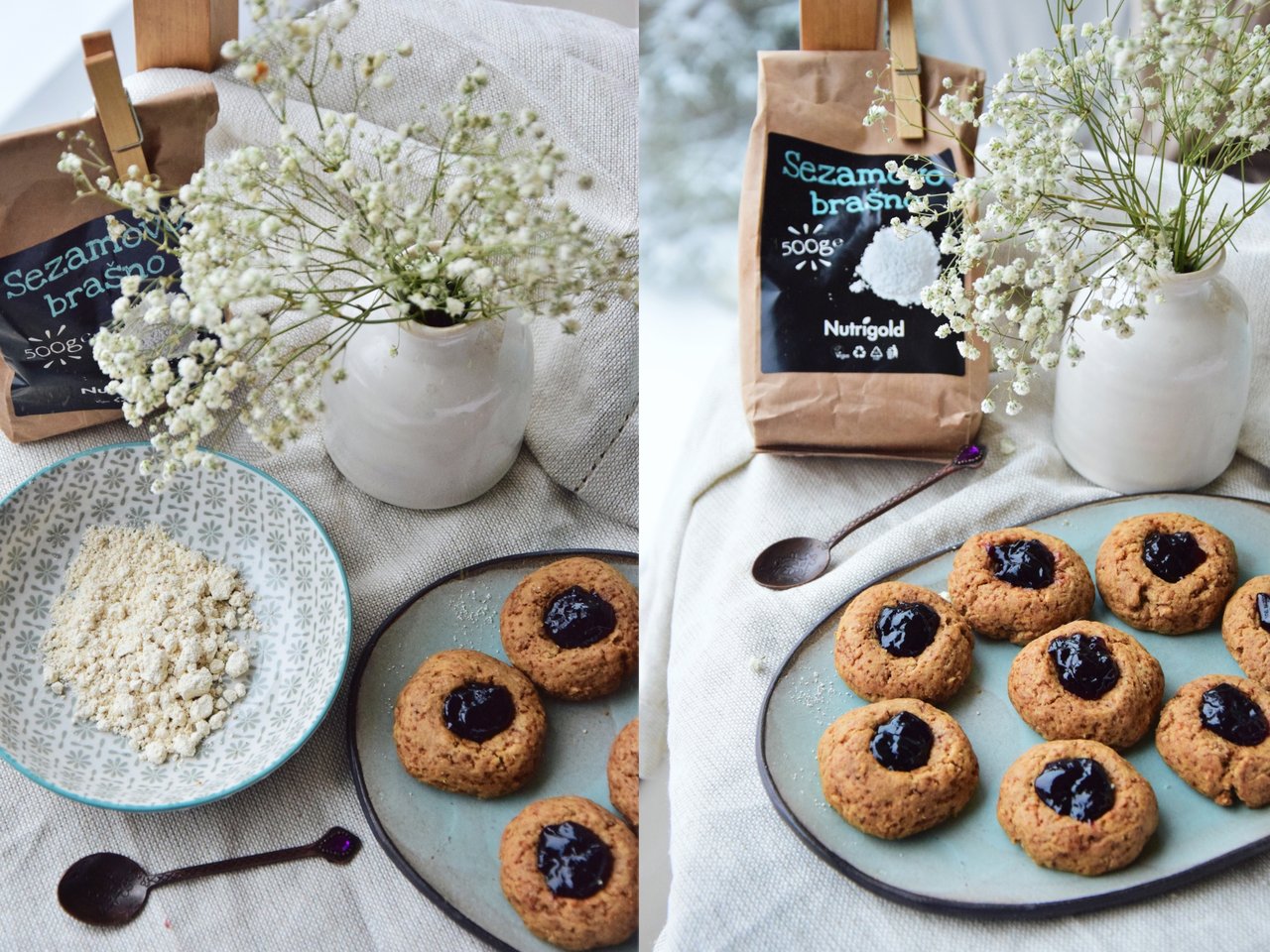 140 g spelt flour
50 g sesame flour
a pinch of Himalayan salt
1 tsp baking powder
1 tsp ceylon cinnamon
90-100 g coconut palm sugar
1 egg
50 g hazelnut butter
40 g extra virgin coconut oil
40 ml almond milk
*Jam of your preference for the filling.
I used aronia & agave jam, but a plum/cherry/strawberry should be perfect, too.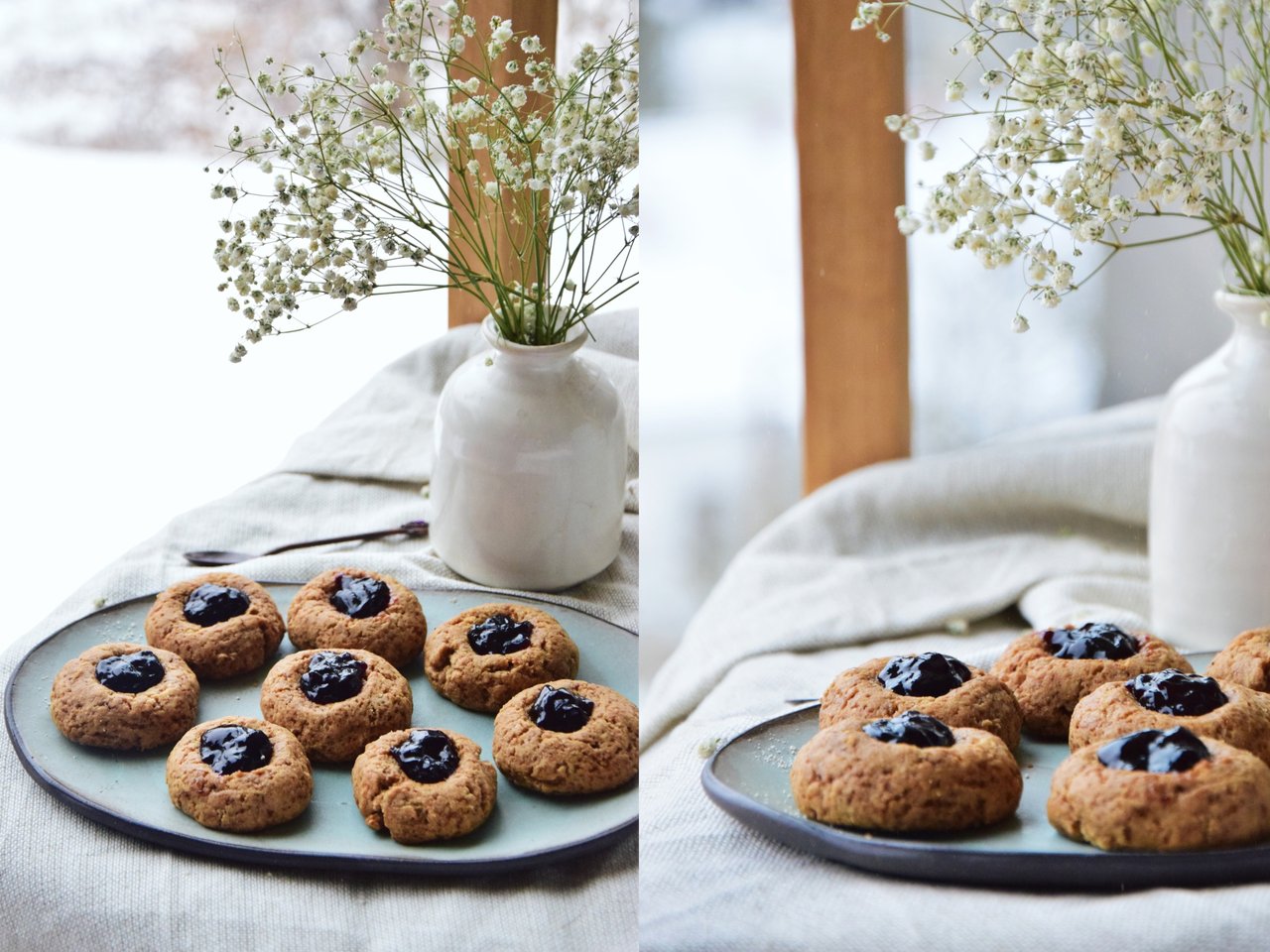 Stir the flours, salt, baking powder, cinnamon and sugar.
In a different bowl beat the hazelnut butter, oil and egg.
Pour in slowly the liquid mixture into the dry mixture, stir and then gradually pour in the milk (about 40 ml should be enough in order to get a nice firm, yet "wet", not crumbly mix).
Make a dough, tear small pieces of the dough and make small balls, place them on a baking tray lined with parchment paper and press gently the middle of the ball to form a "print"
The cookies will rise slightly while baking and spread a bit, so leave a little bit of space between the cookies.
Bake on 180C degrees for about 10 minutes, bring the tray from the oven a little bit towards you, gently press the middle a bit more and continue baking for about 5 more minutes.
Take them out and if necessary press the middle some more.
Leave them to cool on a wire rack, meanwhile filling the middle with jam while they are still warm.
Use about  ½ tsp for filling.
Serve as a healthier dessert over coffee or a nice cup of tea.
Warm yourself up nicely surrounded by the white cover outside.