If you haven't covered your fingers with chocolate on Valentine's Day, you haven't done nothing! ;)
You can find all the wholesome ingredients for this recipe on Tvornica Zdrave Hrane.
There are these store-bought "honey hearts" with jam that you can give to your loved ones for Valentine's Day...or to yourself? :)
Are you familiar with those?
They remind me of my beloved lebkuchen. Huuuuge fan over here of those type of cakes!! 
I was thinking of Valentine's day and what could be the perfect love bite to share  and of course chocolate came to my mind first.
And then...epiphany! Yes, I would make a flavourful honey sponge cake with the perfect jam to accompany my cake and then round the whole taste with some delicious strong chocolate.
It would have been even more perfect if I'd had some heart-shaped molds for this recipe, but, believe me, who cares when they are that good! :)
I am in love!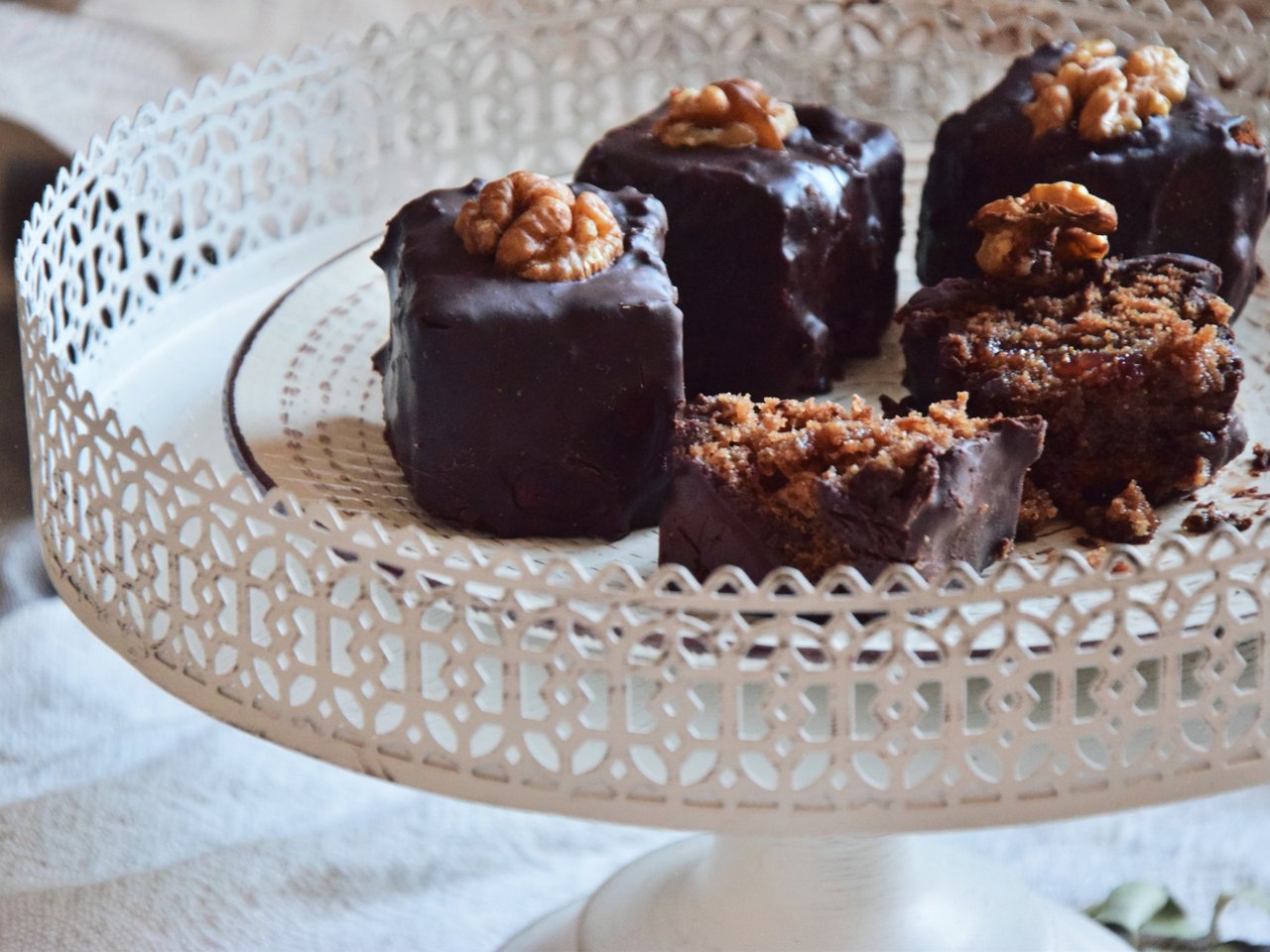 For the sponge
Wild strawberry sweet Bakina tajna  200 g + 1 tbsp rum (to spread on the sponge)
I reccomend this specific sweet, but you can use your preffered jam.
Chocolate coating
200 g dark chocolate (try this Dennree chocolate that I linked here, because it is the right chocolate! Stronger in flavour, a bit bitter and simply marvelous. Please, do not use the cooking chocolate.) 
250 ml soy milk
The quantity of the cakes I stated above is relatice, since it depends on the size of the cakes you'll be cutting. I recommend them to be smaller in size, because they look nicer and have more moist in them that way.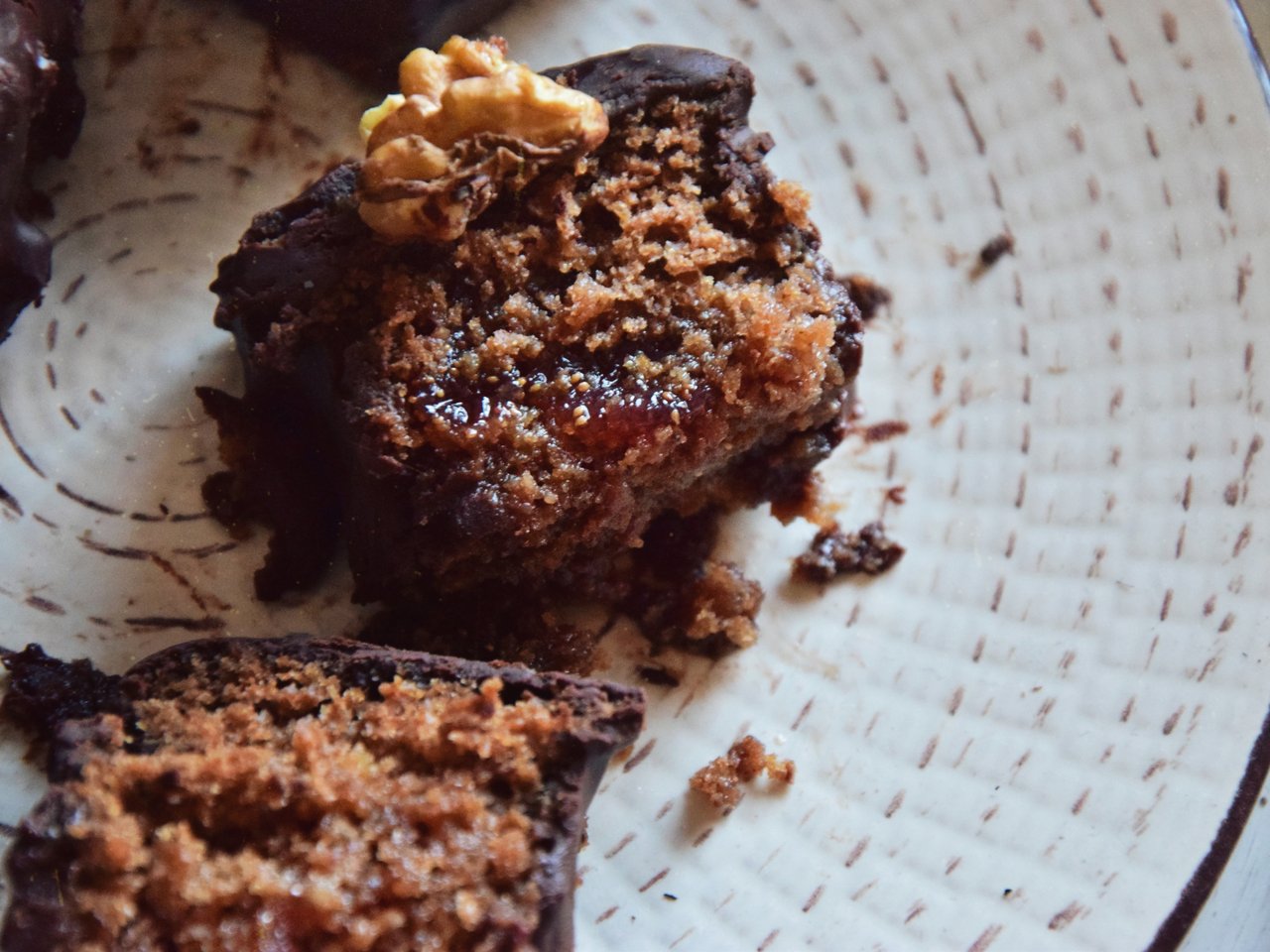 Melt the honey and coconut sugar over low heat, constantly stiring, for about a minute, so the ingredients combine and melt nicely.
Add the rum after you've turned off the heat and stir.
In a different pan melt the coconut oil and leave aside to cool.
Beat the eggs first, then pour in the melted honey and coconut sugar that has cooled a bit. Mix shortly.
Pour in the coconut oil as well and stir.
In a different bowl combine the flour, cocoa, cinnamon, ground walnuts and baking powder.
Start adding gradually the dry ingredients into the wel, mix until all ingredients have incorporated well.
Once the mixture is done, pour it in baking mold lined with parchment paper.
The mold I used is of 25x15 cm ,  but it can even be a bit larger so once the cake is baked is a little lower.
Also, if you have silicon molds shaped like hearts, feel free to use them. They'll definitely be prettier.
For the type of cake mold I used I needed 35 minutes for baking on 175C degrees.
Once the cake is done, take it out of the mold and leave on a wire rack to cool for a while before cutting it into half.
Heat the strawberry sweet or jam with the rum shortly and then spread it evenly over the sponge.
I sliced the sponge into two parts first, then cut it into halves.
Once you've spreaded the jam, cover the lower part of the sponge with the upper part.
Melt the dark chocolate with soy milk.
You will get a smooth and thick mixture.
I definitely recommend using the bitter chocolate because the sponge and jam are already sweet, so you'll need a "strong" flavour to complete the taste.
Slice the sponge into equal parts of the size you want and dip it into the hot chocolate like you'd do with lamingtons, then place them on a wire rack. Put some parchment paper below the rack so you wouldn't make a big chocolate mess.
If you used heart shaped molds, just cut them in halves and repeat the same process.
That's it!
Enjoy your chocolate love bites with your loved one and get messy with chocolate together! :)
ps. Do not go overboard with these cakes because I guarantee it might be dangerous to overdose with them!