Little drops of heaven, to be completely modest! :)
I pulled some ingredients out of my pantry, looked at them for a while and then an idea popped to my mind.
Nuts, carob powder, yummy jam that is actually perfect for cakes and lastly, chocolate, what else. :)
I got this idea to fill the bites with jam over the internet and it's really something special.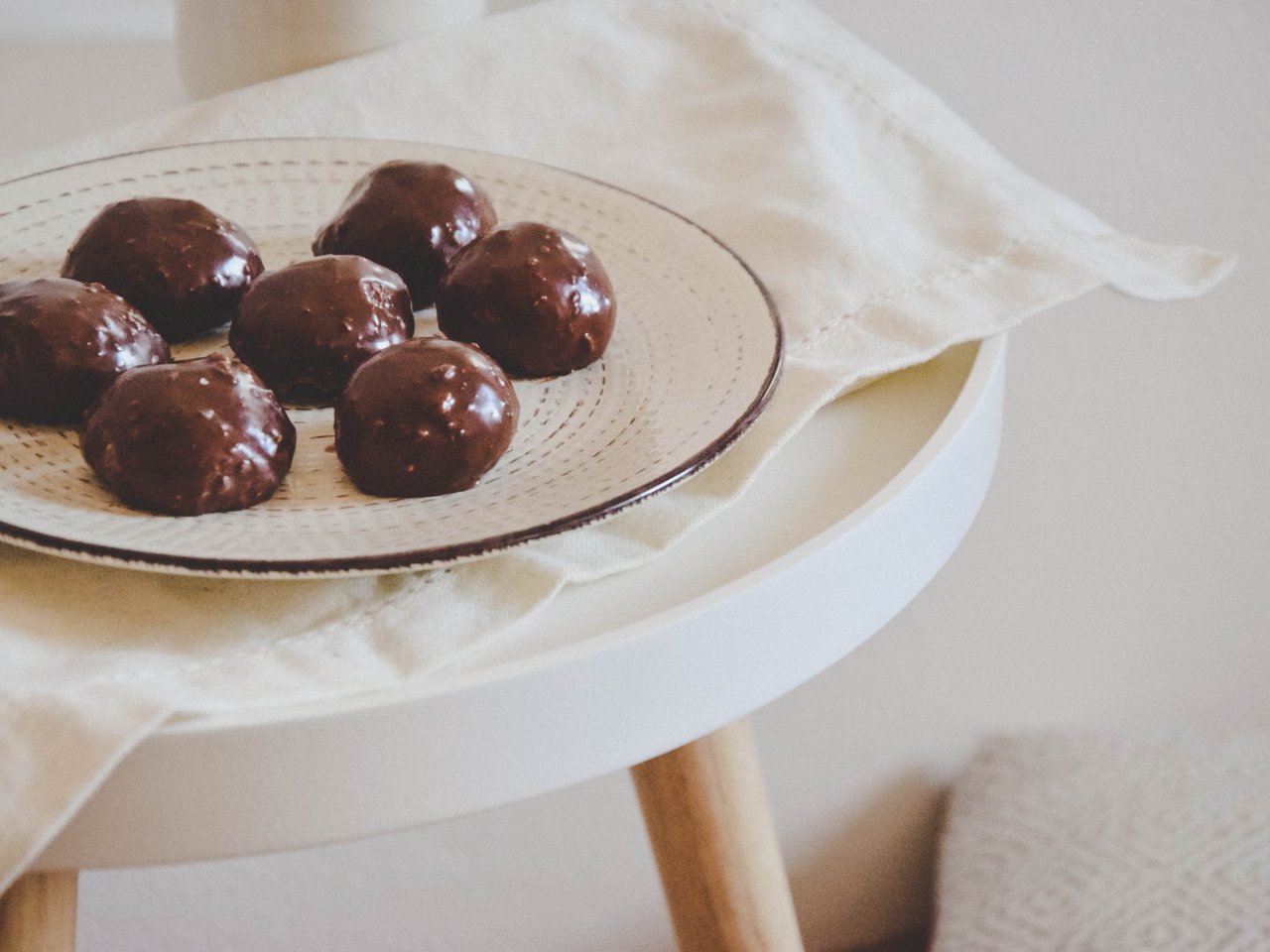 100 g raw cashews
100 g almonds
10 g carob powder
80 g hazelnut butter
30 g coconut oil 
Jam by choice.  I used Podravka's rasperry/coconut jam that is simply divine with this combination.
Coating
70 g chocolate (mix dark and nogat chocolate)
15 g coconut oil
Blend the almonds and cashews in a food processor until crumbly.
Add the carob powder, hazelnut butter and coconut oil until all ingredients are well combined.
The process won't take long.
If you use jam that is kinda jelly, there will be no problem when filling the bites.
If you have a more liquid one, you'd need to freeze small drops before using them, but I definitely recommend the jelly one.
Tear a piece of the mixture, press gently between the palms of your hands, place a drop of the jam in the middle, fold the piece that you are holding and roll between your hands to get a ball (size of a walnut).
If your mixture is too soft, then place in the fridge to harden. I didn't have to do that, because my hazelnut butter was pretty thick.
You can place dried berries instead of the jam, but I suggest you follow the recipe as it is.
Place the balls on a tray lined with parchement paper.
Meanwhile melt the chocolates with coconut  oil.
Leave aside for a short while to slightly cool and then use a tbsp to cover each bite with the chocolate. You can dip the bottom of the balls and then use the spoon to cover it completely in chocolate. Place on a wire rack or on the baking sheet to set.
Once you finish all the bites, place them as they are in the fridge for cooling.
If your fridge is not too strong, you can place them in the freezer for a while as well.
Store them in the fridge.
Enjoy these fancy drops of heaven. ;)
ps. If you don't want to chocolate coating, just roll them in cacao/carob powder.