Soft, simple and ideal in a sweet, as well as in, salty variation.
We all become bakers in the past few months, spending all that time at home, so to crack that "baking bread monotony", here is the recipe of some quick and easy to make rolls that I did with baking powder and yogurt and filled  half with fresh cottage and feta cheese and the other half with jam.
Actually, the possibilities are endless, it just depends what you have in the fridge in the moment you bake them and obviosuly it is up to you wheter you want to make them sweet or salty.
Ingredients for the dough
150 g spelt flour
150 g wholegrain spelt flour
2 tsp baking powder
200 g yogurt
100 ml extra virgin olive oil
about 1/2 tsp Himalayan salt*
egg yolk for coating the dough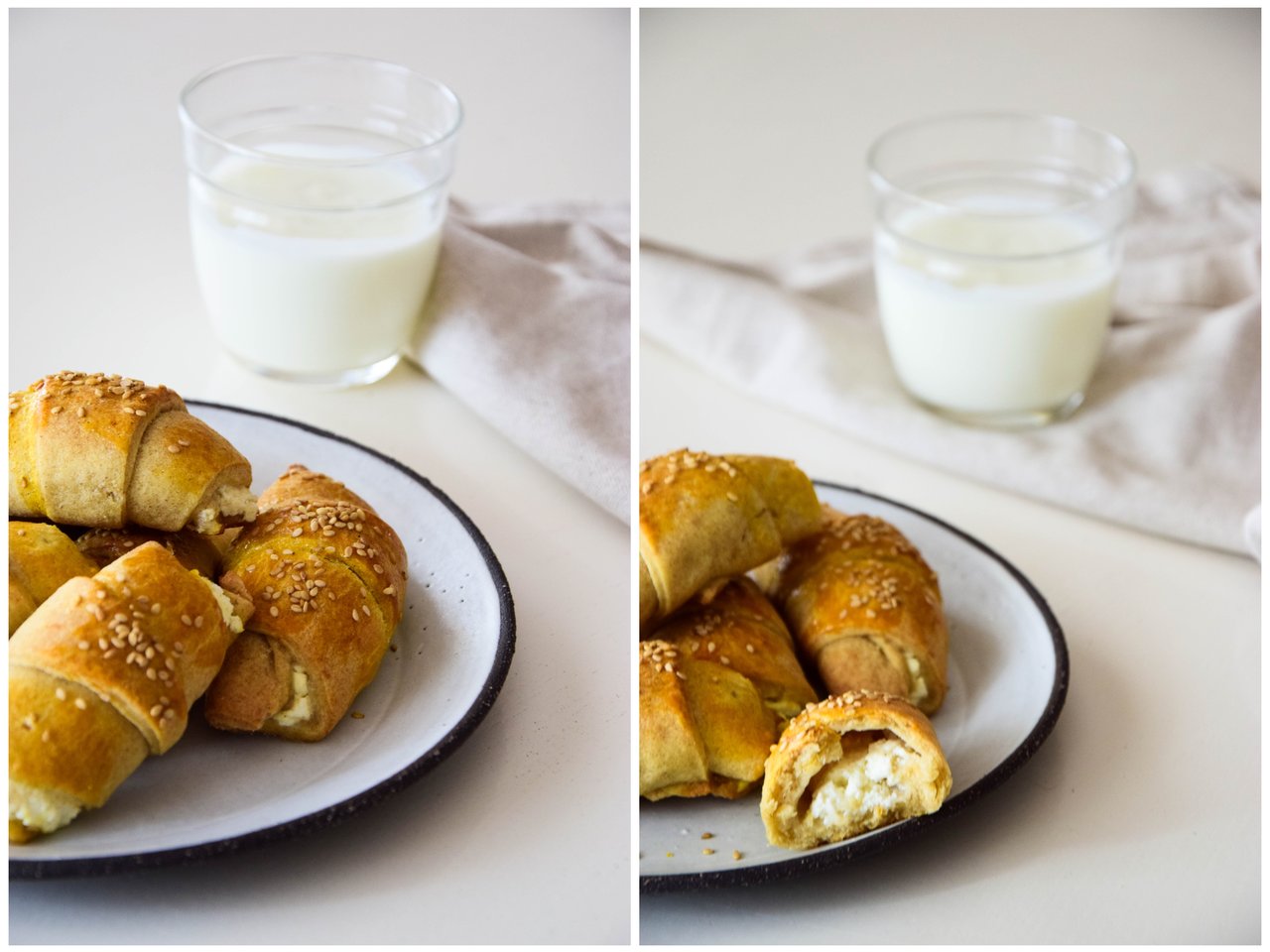 150 g cottage cheese
about 30 g yogurt
a pinch of salt
a handful of feta cheese dices
*Be careful with the salt in the filling if using feta cheese, which is already quite salty.
Also, you can make small pizza rolls, just adjust the filling ingredients.
sesame or some other seeds by choice
Demerara sugar, for the sweet rolls (before baking)
powdered sugar with cinnamon (after baking)
Combine the salt and flour in a bowl.
In a separate one stir the baking powder in the yogurt then add to the flour mixture and pour the olive oil in.
Stir and knead the dough on a floured surface.
I divided my dough into 2 equal balls, but you can also divide into 3 and make smaller rolls, it is up to you.
Roll each dough into 2 mm thick circle, slice into half horizontally and vertically, then each quarter needs to be divide into 3.
Fill with your sweet or savory filling.
You should place it on the outer part of the dough and roll towards the middle. Do not over fill, once rolled, slightly squeeze the edges.
Place on a baking tray lined with parchment paper, coat with the egg yolk and sprinkle some sesame seeds on top.
Bake on180 C degrees, betwen 15-20 minutes, depending on the oven.
Dust the sweet rolls with  a mixture of cinnamon and icing sugar. :)