This is definitely THE recipe for vegan apple pie, looks rustic, tastes amazing.
Vegan crumbly/crisp dough that I won't change for anything in the world, anymore! :)
I find great deal of inspiration from Akis Petretzikis lately, that is why I boldly decided to use melted coconut oil for my pie and I must say, there is no mistake about it.
The dough is awesome, crisp, but melts into your mouth, and the filling nice and juicy, aromatic.
Ingredients for the dough
Round baking tray 26 cm
500g spelt flour
a pinch of Himalayan salt
130 g fine unrefined brown sugar
100 ml oat milk
160 g odourless coconut oil
1 tsp baking powder
1,2 kg apples
60 g fine unrefined brown sugar
1 tsp cinnamon
3 tbsp rum
2 tbsp lemon juice, you can add a bit of lemon zest as well, if you enjoy it
50 g walnuts, ground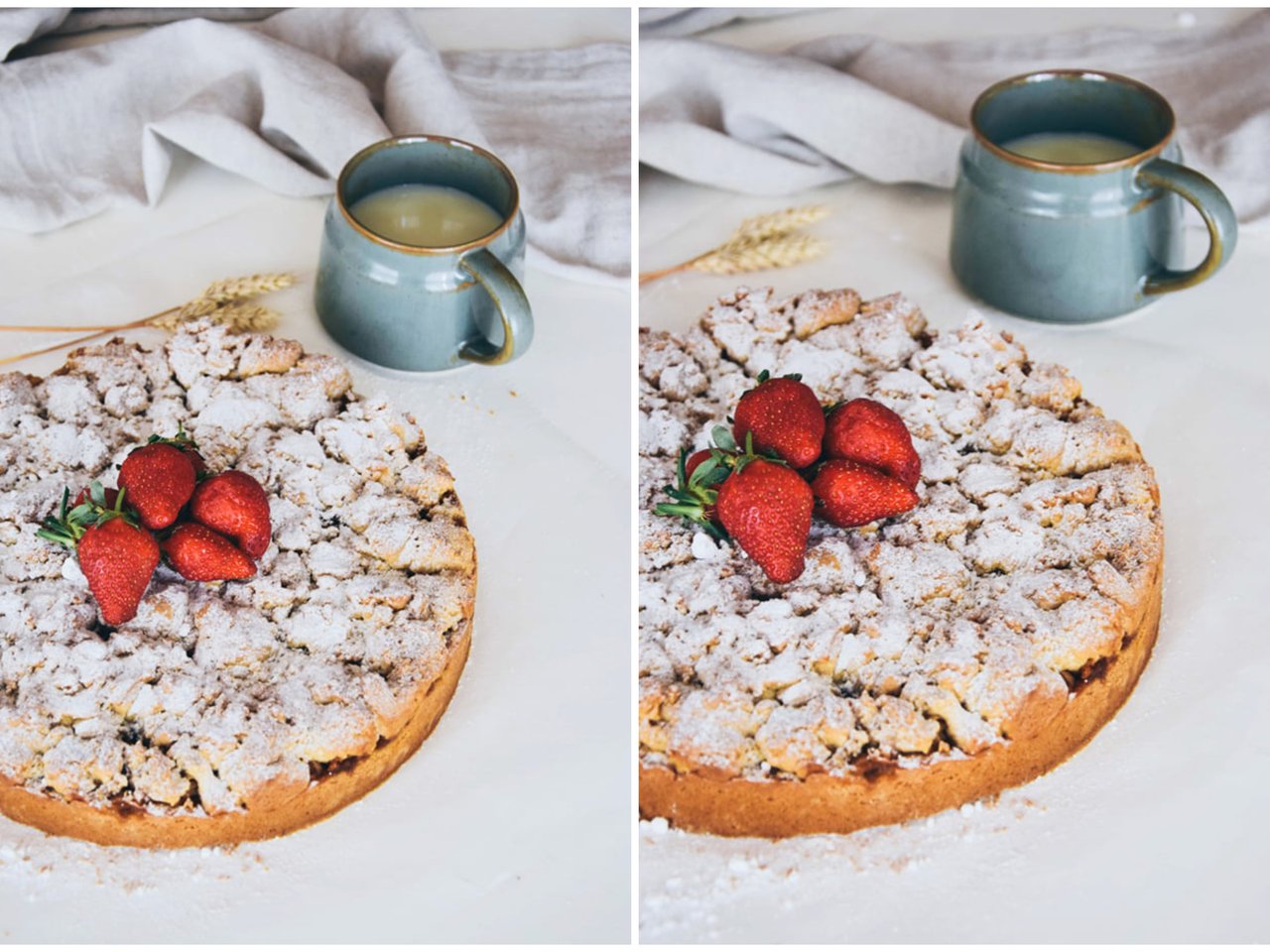 Wash, peel and grate the apples, over a kitchen table cloth in a bowl.
Drain the apples through the table cloth, then add the remaining ingredients and set aside.
Do not overlook this step, it is extremely important to get rid of the extra liquid, to avoid a soggy dough later.
Melt the coconut oil over low heat, leave aside to cool shortly. Whisk it with sugar and oat milk to combine the ingredients together.
Stir in the flour, salt and baking powder.
Knead the dough and separate into 2 equal parts.
In a greased and floured baking mold/lined with parchment paper, press half of the dough on the bottom.
Add the apples then crumble the remaining dough on the top.
Bake on 170C degrees for about 45 minutes, take it out of the oven, leave to cool, dust with icing sugar and serve.
I love the strawberry/apple combo. :)