Almost a zebra cake that stays fresh, light and moist even a few days after baking.
We all love banana cakes in my home!
Since I know how much you all love the banana bread recipe that's been on the blog for quite some time now, I decided to opt towards a vegan version, only this time, resembling a zebra cake.
The cake is amazing, light and soft even after 3 days of baking and  the reason also resides in the addition of apple cider vinegar.
When thinking of which toppings or ingredients can be added in, be playful about it.
I divided my batter into 2 equal parts and added unsweetened cocoa powder in one so I could play and get the zebra effect, but you can also make different patterns with the 2 batters or leave the cocoa out completely.
Additions wise: use walnuts, dried fruits, chocolate chunks...
For more banana inspired recipes, look at the links below.
300 g ripe bananas
220 g white spelt flour
1/2 flat tsp baking 
1 tsp baking powder
100 g sugar ( I used fine unrefined sugar, but you can also use coconut sugar, xylitol...)
a pinch of Himalayan salt
100 g coconut oil (odourless for a more neutral taste, use extra virgin coconut oil if you want a coconutty flavor)
1 tbsp apple cider vinegar
100 ml plant milk (oat, almond, soy)
2 tbsp rum
unsweetened raw cocoa/cacao powder
dark chocolate chips
or
banana sliced in half as a topping
or
oat flakes, almond flakes, coconut flakes...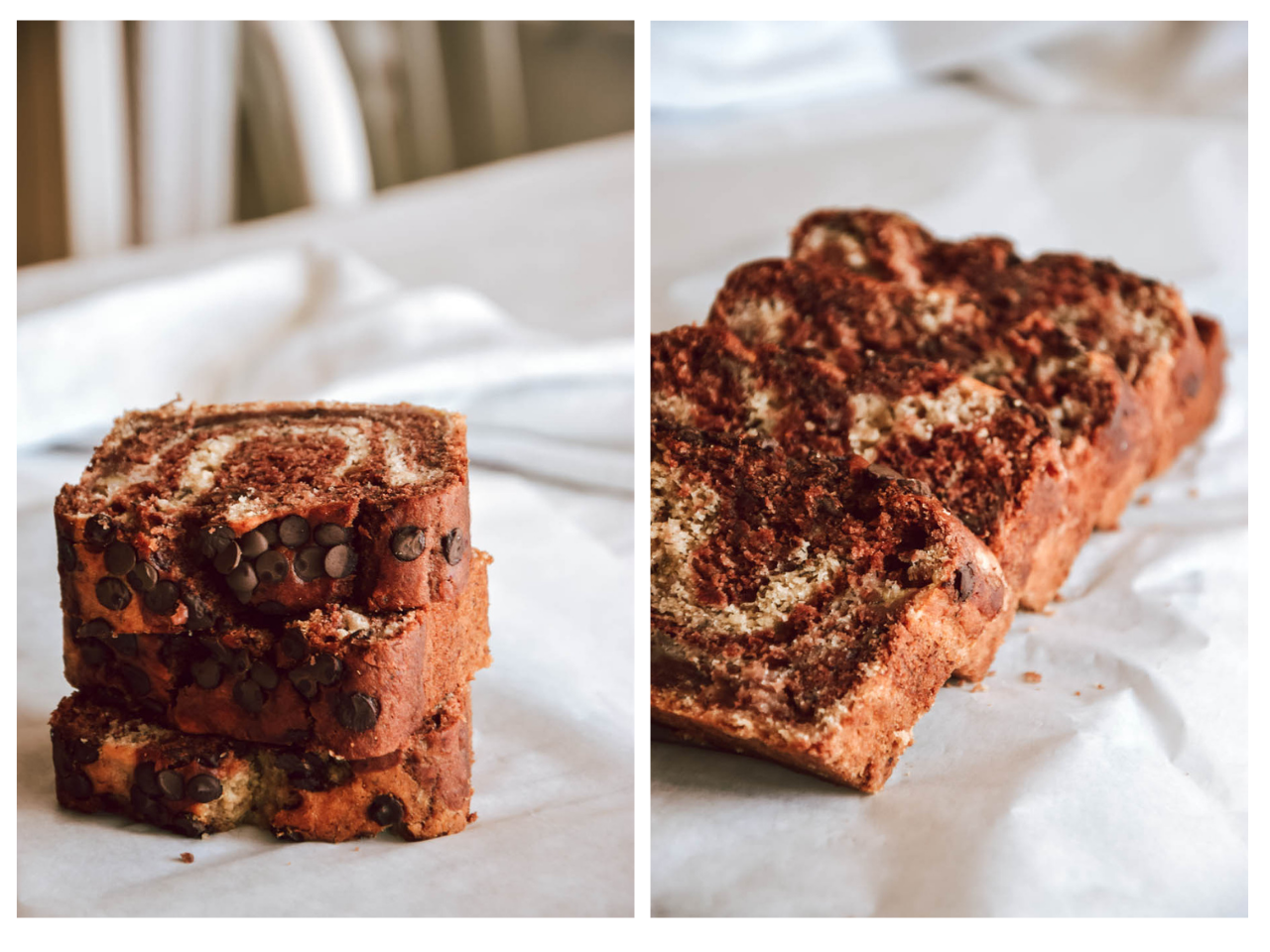 Mash the bananas with a fork in a bowl. You can add 1/2 tsp cinnamon or 1 tsp if you like, but also leave completely out.
Stir the flour, soda, baking powder and salt in a different bowl.
Melt the coconut oil over low heat, set asite to cool a bit.
Beat the sugar with milk, then gradually pour in the melted coconut oil.
Use a whisk to get an even mixture.
Stir in the apple cider vinegar and rum.
Add the mashed bananas into the liquid mixture then, pour it over the dry ingredients.
Use a mixer to ease the process of stiring all the ingredients together, but do it shortly, just to get all the ingredients incorporated nicely.
If you decide to add chopped walnuts or some other additions into the batter, now it's time to do it, stiring it in with a spatula.
Divide half ot the batter into a separate bowl, add 1-2 tbsp of cocoa powder, stir to combine.
Zebra cake effect
Grease and flour your bread baking tin, add 1 tbsp of the light batter, then the dark on top in the middle. Do the same thing until you finish both batters.
Move the tin from left to right to get an even flat surface of the batter at the end, if needed.
If you are not that patient, then combine the two coloured batters the way you like.
Add some dark chocolate chips as toppings and bake on  180C degrees, for about 45 minutes.
Check if the cake is baked by doing inserting a toothpick into the cake. It shouldn't be sticky.
Once the cake is done, leave it for a while in the tin, then transfer on a wire rack to cool and it's ready to serve!