Beautiful and soft chocolate braided sweet bread, for which you'll need to set aside a few hours, but it is most certainly worth it!
I think that babka, a soft sweet braided bread or cake which originated in the Jewish communities of Poland and Ukraine, has been on my to-do list since I started this blog! 
It always seemed so complicated to me and since I am a big fan of quick and easy recipes, I maned up only now to do try it out.
I wanted to make it vegan, because I started veganizing more and more my desserts, so after some reasearch, I finally baked my first Babka this Easter!
The dough turned out perfectly, it rose and baked nicely, so the brioche-like dough tasted amazing even a few days after baking, but my filling wasn't so perfect and I didn't glaze it.
Of couse, I repeated the recipe straigh away after Easter, made a better filling, but only now I used my sugar glaze which completed this babka story perfectly.
Try not to omit it.
Our babka needs a lot of rest, so I used my Magimix food processor to combine all the ingredients together and then continued kneeding with my hands between 5-10 minutes.
The first rest in a warm place (even though many recipes say chill in the fridge overnight) lasted about 2 hours, until the dough rose, then I rolled the dough, spread the filling and rolled it over and left it between 15-20 minutes in the fridge so my filling wouldn't leak when cutting the dough and braid it. Afterwards, I left it in my baking tray another hour before baking it for about 35-40 minutes.
So, brace yourself, you'll be needing at least 4 hours to finish your babka! :)
The filling doesn't have to be chocolate, can be fruity or cinnamon filled, you can even make it sour.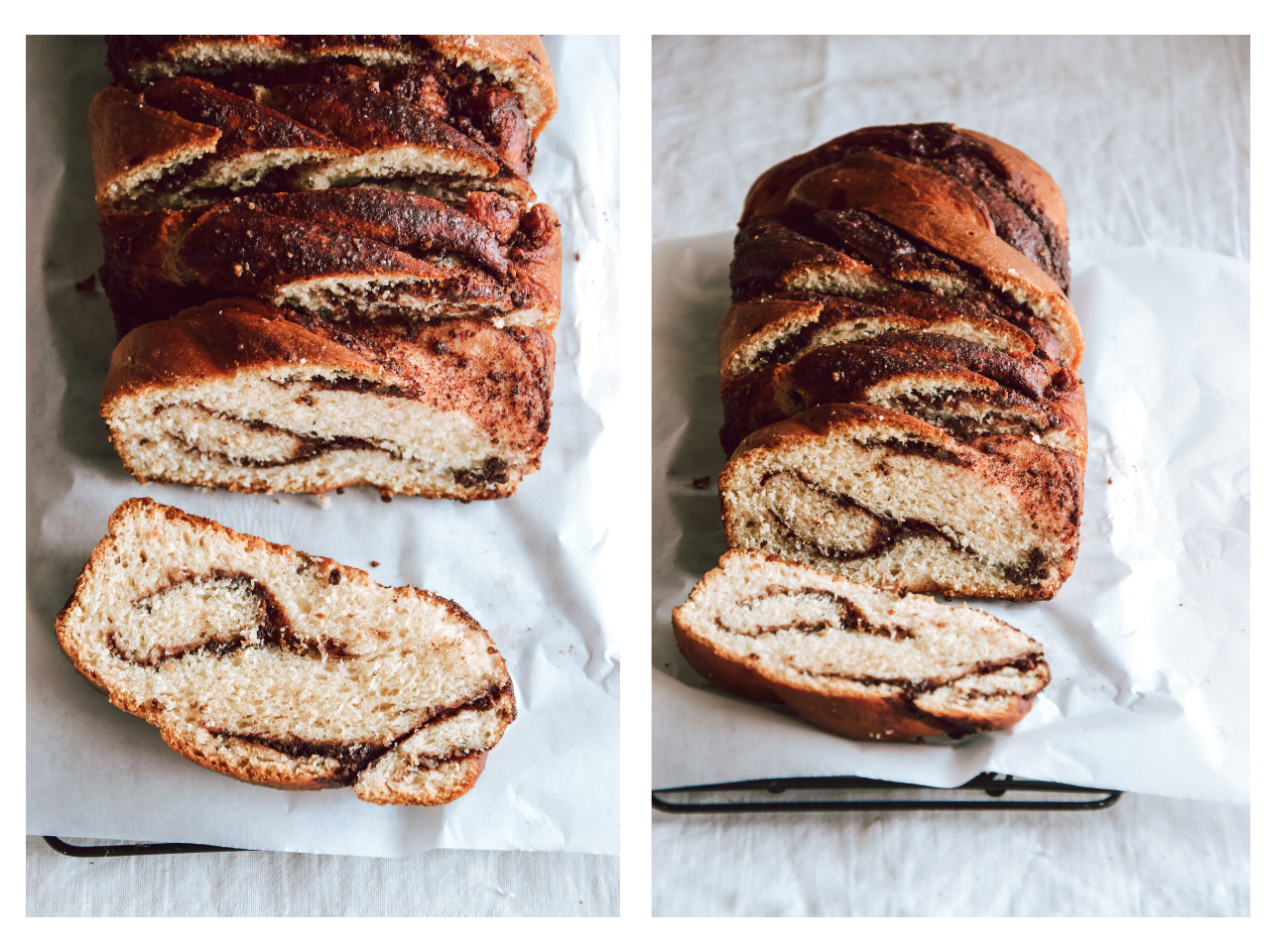 Ingredients for the dough
350 g spelt flour
1 sachet of active dry yeast, 7 g
a pinch of salt
50 g unrefined sugar, fine if possible
180 ml oat milk
100 g coconut oil (extra virgin coconut oil for a coconutty flavor or odourless for a more neutral one) 
40 g coconut oil
50 g dark chocolate
10 g raw cocoa powder
30 g unrefined sugar, fine or grind it a bit if possible
4 tbsp ground walnuts or other nuts
30 ml water
30 g unrefined sugar
Dough
I used my Magimix  food processor to combine all the ingredients and then continued kneading the dough with my hands.
Use a stand mixer or hand one for doughs to incorporate the coconut oil in solid form and combine all the ingredients nicely.
1. Place the flour, salt, sugar and yeast in the food processor.
2. Warm the milk and pour it over the dry ingredients. Pulse/mix shortly.
3. Gradually, add the coconut oil until incorporated nicely with the ingredients and a dough is formed.
4. Take it out of the food processor and knead the dough  5-10 minutes.  The dough should be soft and not stick to your hands, so you won't need to add extra flour to it.
5. Place the dough in a lightly oild bowl, cover it with damp cloth and leave it to rest and rise in a warm place for about 2 hours. It should almost double in size.
Chocolate walnut filling
1. Melt the dark chocolate over low heat with coconut oil and sugar. By the very end, stir in the cocoa.
2. Turn off the heat and add ground walnuts.
The chocolate filling is going to be slightly runny, so the walnuts will help to thicken it out and give a nice texture and flavor to it. Also, it is better to prepare it 20 mintues before spreading it onto the dough, because it needs to cool and thicken so you can easily roll the dough and cut it later on.
ADVICE
3. Once the dough doubles in size, you need to roll it into a rectangular shape, spread the filling on the entire surface (just omit the edges). 
The best thing would be to place parchment paper under the dough, because once you'll roll it over, the bottom won't stick to the surface.
Also, feel free to flour the surface and dough a bit when working with the dough.
Once the dough is covered with the filling, roll it lenght-wise.
4. Transfer the rolled "sausage" dough into the fridge, so the filling can set. Cool it for about 20-30 minutes.
5. Take the dough out of the fridge and use a sharp knife to slice it leghtwise, exposing the filling. Twist the two halves into a braid. Transfer the braid into a greased and slightly floured loaf tin. Squeeze it to fit.
6. Leave it to rest for another hour.
7. Bake the Babka in a pre-heated oven on 180C degrees for about 35 minutes. Test if done with a toothpick.
Once the cake it done, brush it with the sugar glaze.
Sugar glaze
In a small pan, heat the water with the sugar until dissolved completely.
Once the cake is done, brush it generously with the glaze. It might seem like it's too much, but it will be just perfect. Trust me on this one!
Leave the babka for about 15 minutes in the baking tray to cool, before transfering it to a wire rack.
Slice it only when almost completely cooled.
It is going to be perfectly soft even a few days after baking.