Currently, my favourite face care morning routine with croatian brands of natural cosmetics.
After such a long time of convincing myself to be more active, regular and have more regards towards skin care, I started using natural cosmetics of our croatian brands, which makes me particularly happy knowing that we have such quality products, that unfortunately might be undiscovered to some of you.
Moj current TOP 3 brands for face skin care, follow:
1. Cosmel cosmetics is a brand  that I've been collaborating with for a year now and which products I use on a daily basis because of the ingredients that they use in their production and the result I get on my skin after applying them. My skin is cleaner, softer and just more beautiful!
2. I discovered San cosmetics and their daily SAN BASIC face cream with almond, olive,wheat germ and red algae gel, short while after Cosmel & I've been using it ever since on a daily basis more or less, especially as a make-up foundation. 
3. Immortella mediterranean beauty, a natural cosmetics croatian brand whose main mark is, as you probably can imagine, IMMORTELLE, is an amazing brand whose products I started using only a month ago, and so far I am so so pleased with them and that is the reason why I incorporated them into my skin care routine.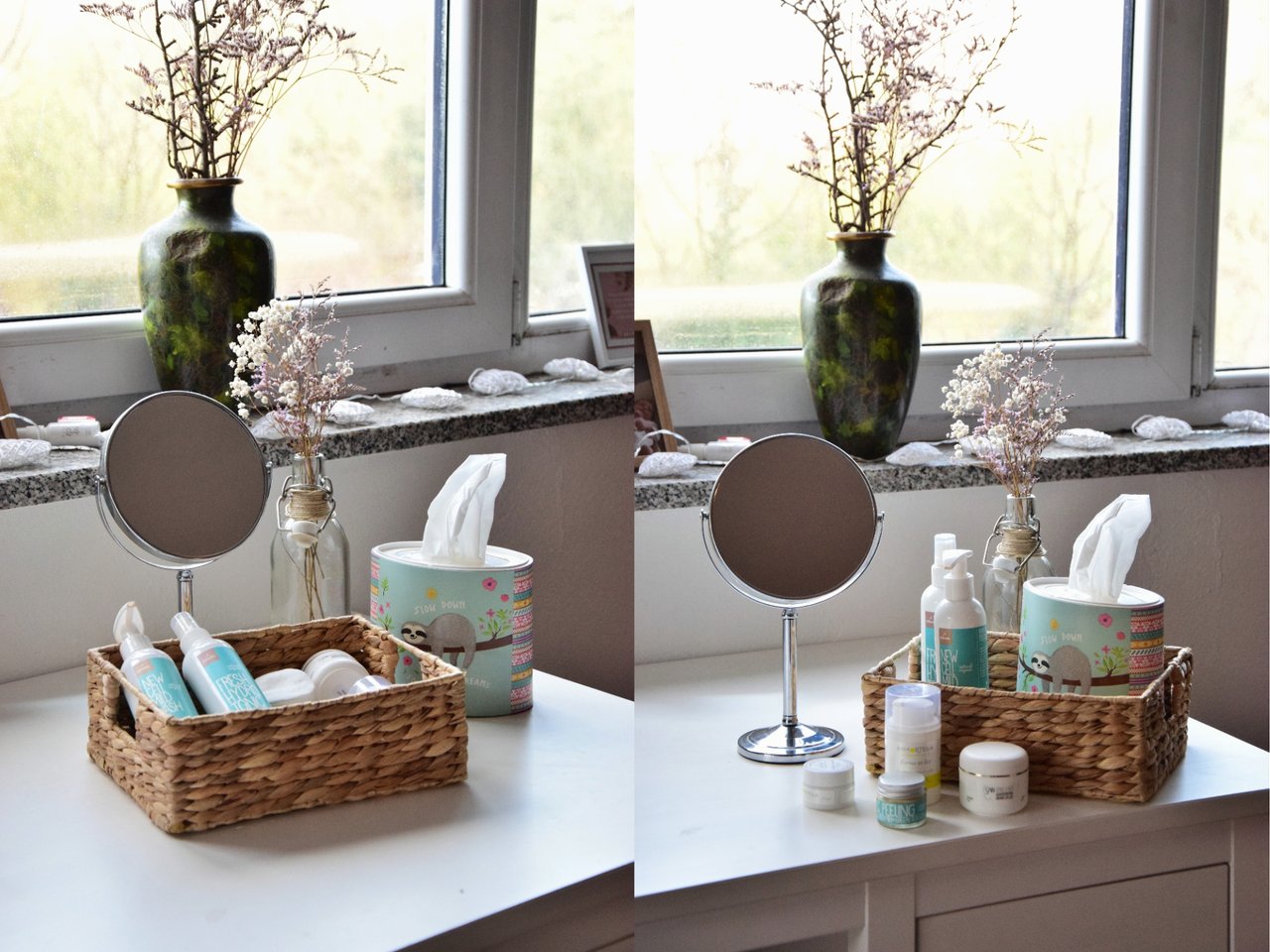 Even though many of you might say that our face needs more care in the evening, after the impurities of the entire day, and the make-up and blablabla...I think it is also important to pay attention to our face skin also in the morning, to gently "wake up" our face with a lighter treatment, because even during our sleep, we might absorb some bacterias and "dirt" from the sheets and pillowcases, so it is certainly not bad to add a nice gentle product when we wash our face in the morning.
I start my winter morning routine with Cosmel's products:
1. New Cell Mild Wash Gel
This has become one of my Cosmel's favourites along with the Fresh Hydro Tonic and the C Peeling for the face (which are also on my morning routine list).
I won't write much about the product itself because there is already a review on the blog, but I will tell you the reason why it's here on my list as a first product that I use in the morning. I use it to wash my face.
Firsty, I wash my face with a bit of water, I squeeze the top of the bottle 2-3 times, gently rub it onto my hands and then on massage it on my face. The gel creates a little bit of foam as I rub it onto my skin with ciruclar movements and then I wash it all away with water.
After this treatment, my face skin feels softer, fresher and cleaner, as if I was on some kind of deep skin face treatment, but all I actually did was washing my face.
I use this gel almost on a daily basis, sometimes I would skip it and then just freshen up my face with Cosmel's FRESH HYDRO TONIC.
2. Fresh Hydro Tonic
I don't use it everyday, just sometimes after washing my face with the gel first, I apply it especially on the area around the eyes and the neck, where some impurity might have stayed from the day before or just to hydrate the face a bit more.
Sometimes I would skip the gel all togheter and then spray the tonic 3-4 times on a cotton wool and then pass the entire face and neck.
In my opinion Cosmel's tonic is the top of the tops to me and I am hooked on it since day one, I even carry it with me when I travel. It's like they thought about me when they made a travel size package of the tonic of 100 ml. Thank you Cosmel! :)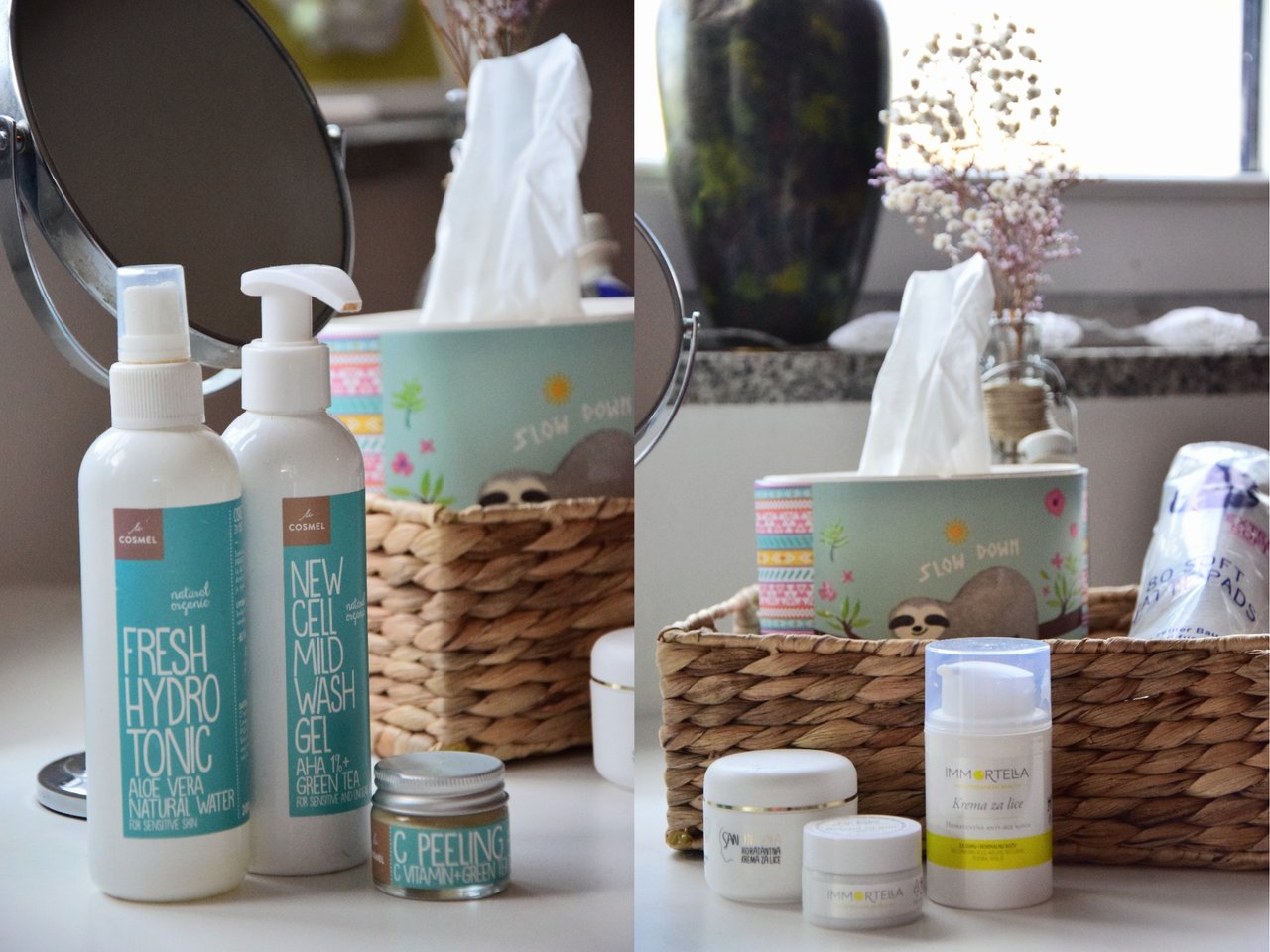 3. SAN BASIC,daily moisturizing face cream
As I already mentioned above, I use this cream a little less than a year and the main reason why I always get back at it is the feeling of freshness and hydration of the face after applying it and the beautiful appealing smell of sweet orange and lemon.
I find it suits me best during summer though, especially as a make-up foundation, cuz it leave a slightly shiny feel on the skin and I am used to it now, so it is present in my cabinet all year around.
If I should compare it with the Immortella face cream, I find it that the SAN's face cream absorbs kind of slower into the skin, you can feel it on your face, while the Immorella's cream absorbs immediately, which is kind of better for me in the wintertime and you cannot feel any trace of it later. The skin remains amazing, though.
Both creams are very good, I definitely reccomend to test them and see which one suits you best.
4. Immortella, moisturizing face cream
This is the first time I write about it, since this brand is pretty new to me too, so I will say a little bit more about it.
The main ingredients of all Immortella's products is immortelle itself, a powerful regenerative tool for skin that combined with argan oil, jojoba and primrose, deeply nourishes the skin, while the red algae gives the skin back its elasticity.
After applying the cream on the face, the skin gets tighter and softer, it's visibily moisturized and reccomended for all skin types, especially for dry skin and wrikled one.
I apply my creams not only to the face, but on the neck and on the area above my chest as well.
The smell is much soother and neutral than the SAN's daily cream, which some might find not that appealing, but I actually love that! You can feel a slight scent of rosemary, citrus and of course immortelle.
The bottle contains 50 ml of the product and has  a press on plug for usage.
*Immortella products are inspired by nature, every product is made by them from the very beginning to the very end, so they are high quality products made with cold pressed plant and essential oils of organic production, contain no parabens, silicons, aromas or colourings.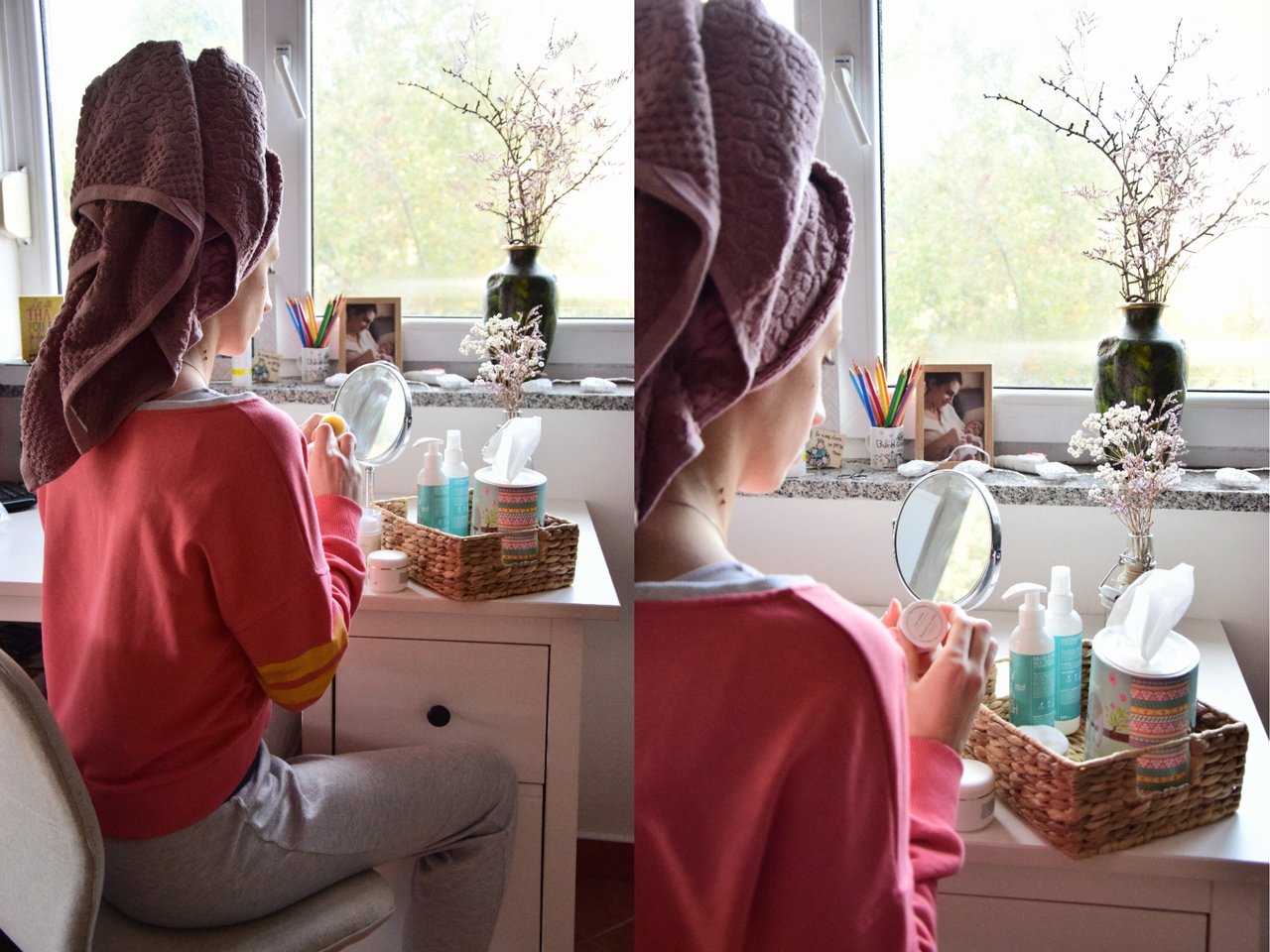 I finish off my entire routine with the Immortella lip balm.
5. Immortella lip balm
The package contains 15 ml of the product and it's stored in a small box, I assume it will also last long because I apply it only a little, not only in the morning, but throughout the day as well.
Since I drink a lot of water and quite often because otherwise I would have dry lips all the time, by using the balm I additionaly hydrate them and avoid cracked lips.
Honestly, three weeks ago, I had a cold and my skin around the nose was irritated because of all the tissues, I applyed it on that area as well and it soothed and reduced the skin irritation very quickly.
The balm is a combination of jojoba oil, shea butter and mango butter, marigold extract and immortelle essential oil.
It's not too oily or greasy, absorbs fast which might seem like it doesn't las long, so if you use Labello or some other similar brand, it could seem like a bit difference switching to this.
A great product for the cold windy days, even though I prefered the balm in the stick (5g) I tried once by Immortella, made with coconut and olive oil! It was simply perfect, so I hope they will put it in their offer again, maybe in spring/summer.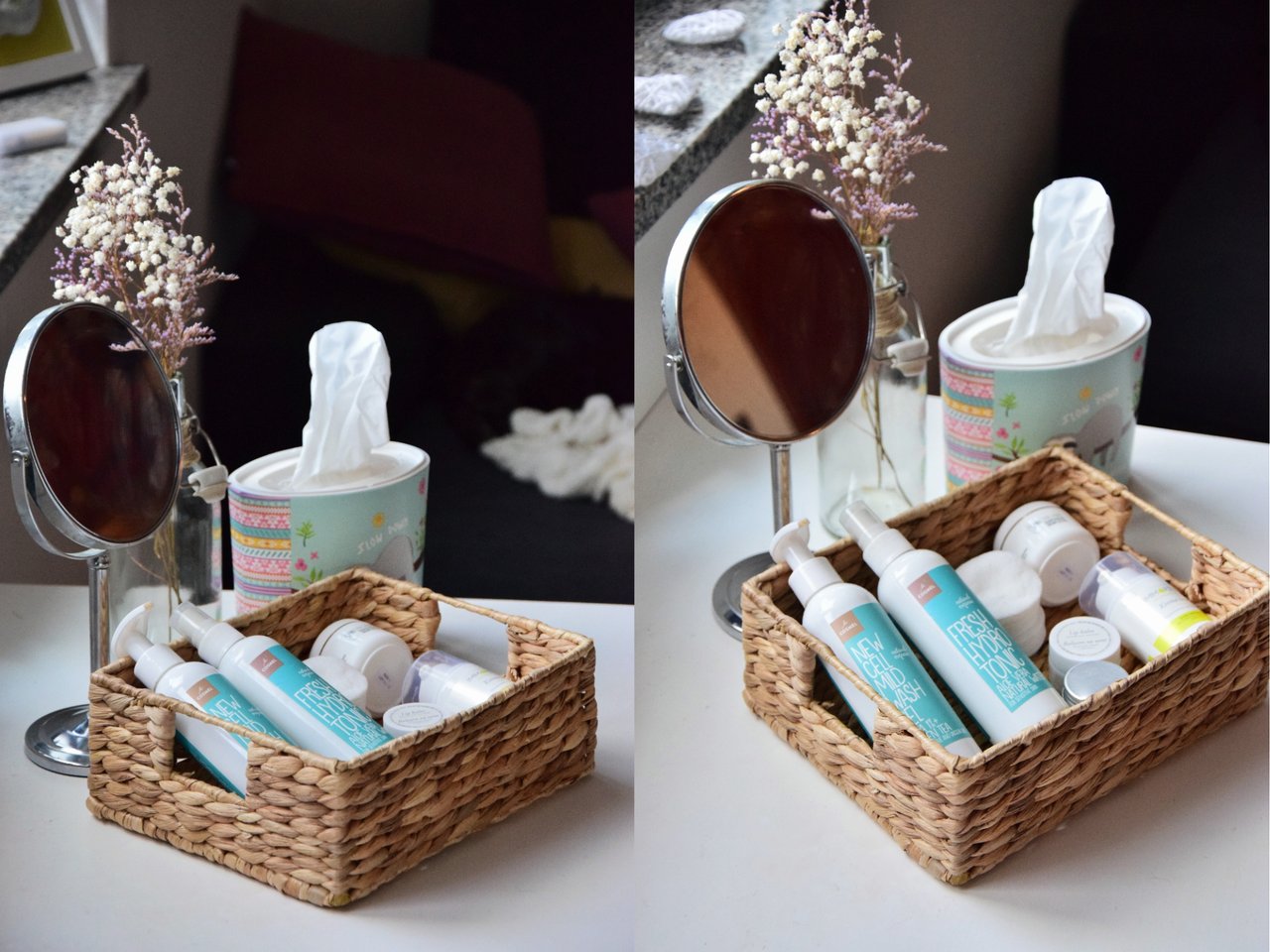 There is one more product that I use occasionaly, Cosmelo's C face Peeling.
I use this product only 2-3 times a month, after washing my face if I don't have to apply any make-up afterwards or some other product.
I also use it in the evening someties, but I decided to mention it in this routine..
I apply a thin layer of the peeling all over my face, leave it to work its magic for 10-15 minutes and then wash it.
The skin is visibly cleaner, softer and looks young, a real baby face!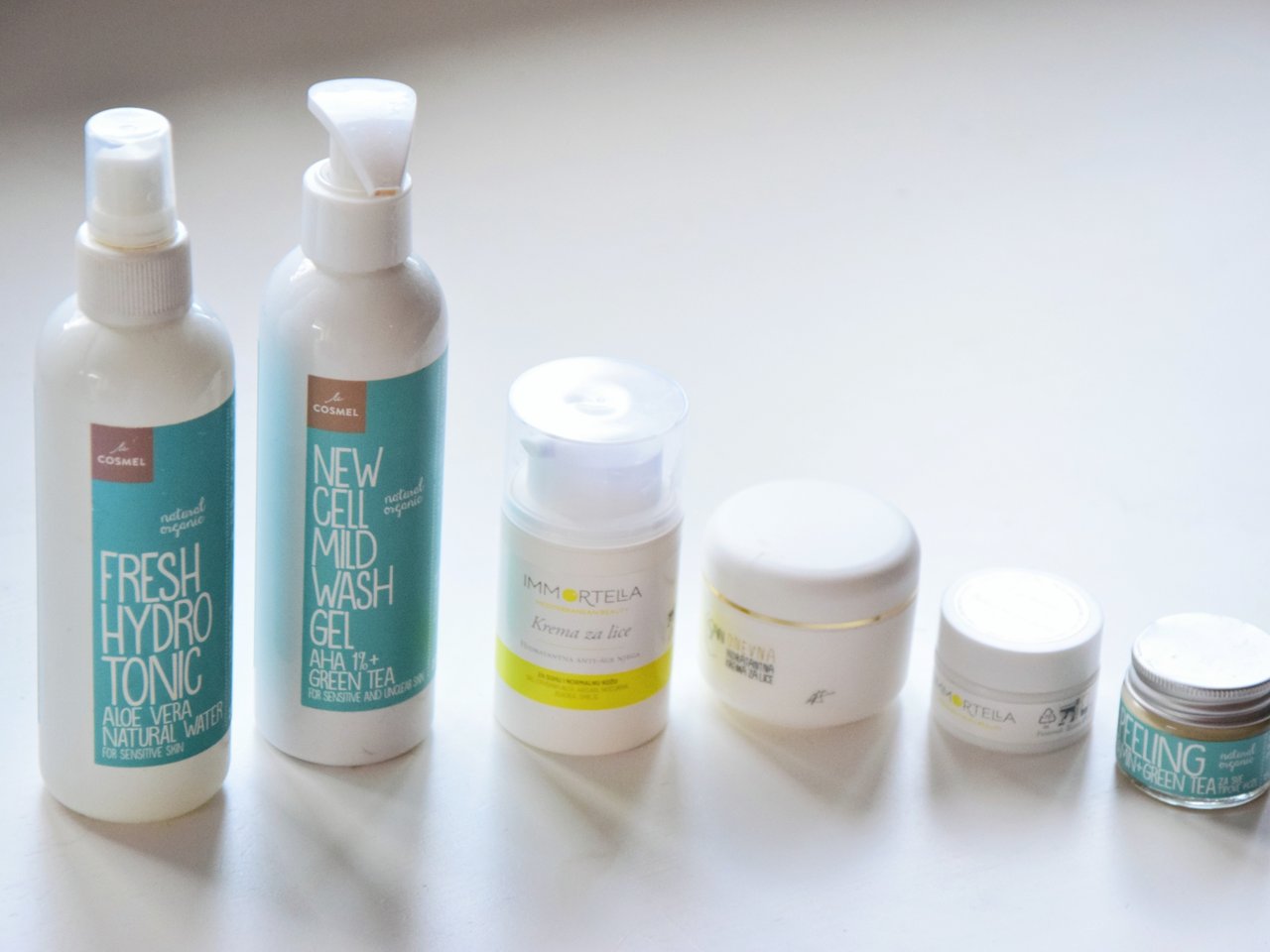 ON THE BLOG...find out more about the products...