SWEET FRIDAY-weekend inspiration.
After the millionth experiment with the peanut butter cookie recipe, I finally have my favorite!
I can easily admit I am a HUUUUGE PEANUT BUTTER LOVER, so it is no surprise I made a billion variations of the peanut butter cookie recipe in order to find the right one for me.
Obviously, I wanted them to be healthier, so I played a lot with the dosage of sugars and fats and I even used half wholegrain spelt flour for their preparation, cuz my idea was for the cookies to be a breakfast kind, great for the morning time or as a snack.
So here they are...crispy, slightly gooey on the inside thanks to the molasses of dark Musovado sugar, with  beautiful peanut butter flavor and a special ghee butter touch that I have grown fond of, that makes the cookies a little nicer and crispier, but you can use coconut oil instead if you want, just make sure it is with no coconut flavor, for a better peanut butter taste.
You can use or leave the chocolate our, but I am definitely looking forward to your feedback!
I have immediately written down the recipe in my Recipe journal Make it Healthy so I wouldn't lose it, beacuse it happens quite often with many good recipes & now it is here on the blog as well! Sweet Friday is here!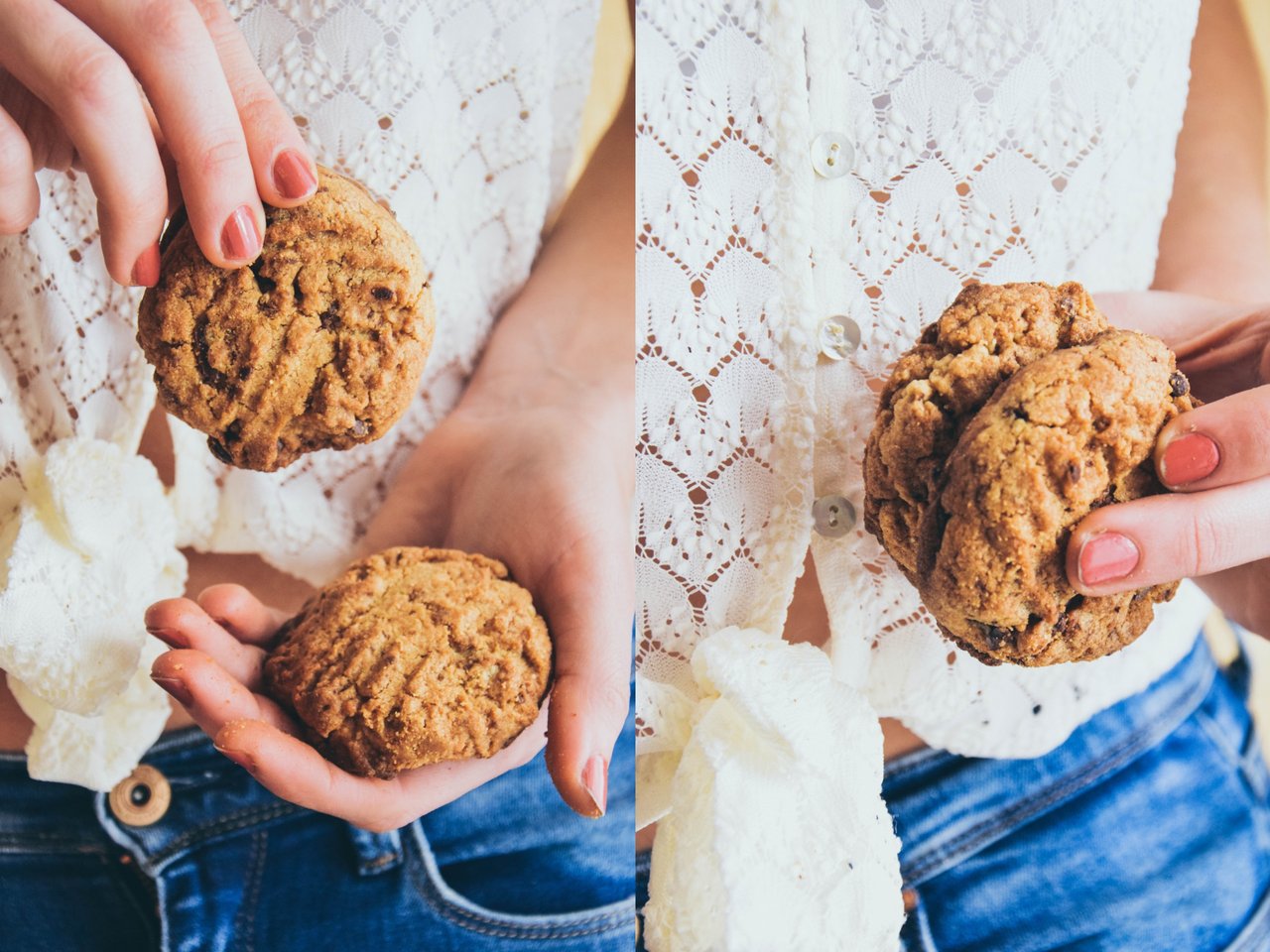 QUANTITY
up to 18
cookies
100 g peanut butter*
85 g ghee butter**
1 egg
70 g light Muscovado sugar
40 g dark Muscovado sugar
a pinch of Himalayan salt 
80 g spelt flour
50 g wholegrain spelt flour
1/2 tsp baking soda
2 ribs of dark chocolate (at least 70% cocoa)
*I have recently been using  Monki peanut butter from Bio&Bio. I think it's amazing!
** Substitute the ghee butter with coconut oil withour coconut flavor if you don't like ghee.
Do NOT leave out the dark Muscovado sugar cuz it contains a high amount of molasses which gives a beautiful slight chewy effect of the cookies. 
Mix well the peanut butter, ghee butter and sugars, until you get a nice creamy texture and break the granulated structure of the sugar.
Mix in the egg and salt.
Gradually add the flour with the soda and mix shortly, only until all the ingredients have been incorporated nicely.
If you decide to use dark chocolate, chop it into small pieces and stir in slowly, manually.
It would be best to use a cookie scoop or icecream scoop to make equal sized dough balls that you'll place on a baking tray lined with parchment paper.
Leave a little bit of space in between because you will gently press the top of the cookie dough with a fork and it will spread a bit, and also it will do the same during baking because we are using baking soda in the recipe!
Bake the cookies for about 15 minutes on 180oC degrees, which will make them crispier.
Take them out of the oven, remove from the baking tray and place them onto a cooling rack.
While they are still a little warm, they will be chewier, while they'll be crispier the next day.
Enjoy your sweet weekend! :)