Beautiful yellow soft cookies with orange peel and spices that warm you body and soul.
I made a nice pumpkin bread the same day that I made the cookies with the same ingredients basically and I don't know which recipe I loved most!
You can try out the pumpkin bread as well, link of the recipe down below:
1 egg
a pinch of Himalayan salt
75 g coconut palm sugar
150 g pumpkin pure
zest of an orange, or a bit less
100 g extra virgin coconut oil
1 tsp pumpkin pie spices
100 g wholegrain spelt flour
80 g spelt flour
1 tsp baking powder
1/2 tsp baking soda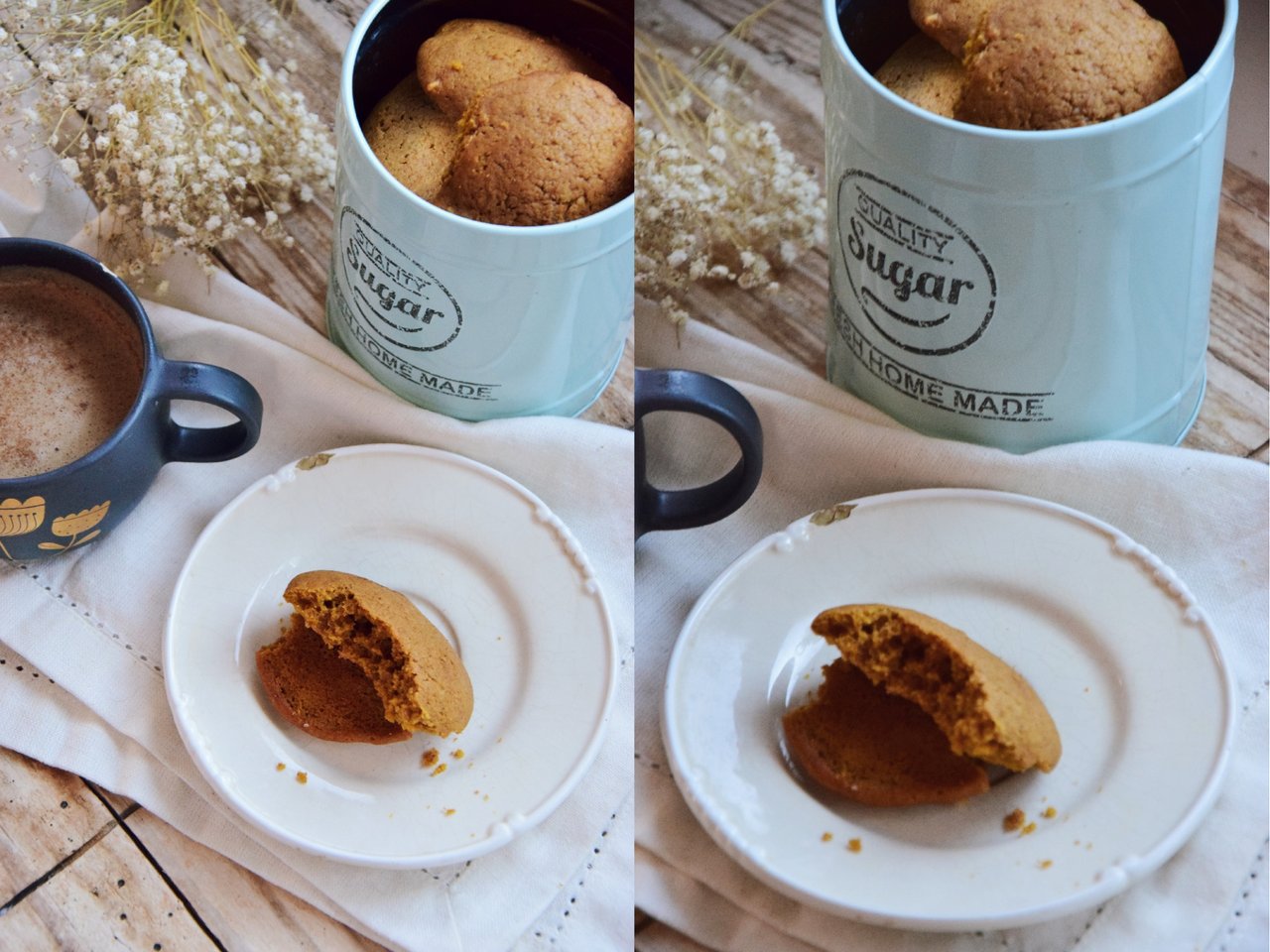 Beat the room temperature coconut oil with the salt, sugar and egg.
Add the pumpkin pure and orange zest.
If you've made the pumpkin pure a day in advance and has been sitting in the fridge, you'll see some liquid forming on the top of the pure that you must avoid putting in the mixture.
Combine the flours, baking powder and soda with the spices and then gradually add to the wet mixture until all ingredients are well combined.
Use a cookie dough scoop to take a tbsp of the mixture and placing it onto a baking tray lined with parchment paper and then bake on 180C degrees for about 10 minutes.
The cookies will rise and spread, forming a thin crust on the top, they'll be soft once done, so be careful when transfering the cookies on a wire rack for cooling.
Keep in a close container, but not for too long, since they are soft and moist and won't be able to survive for a long time on room temperature, especially now when we have heating mode on in the house.
I guarantee you'll enjoy these pumpkin pie spiced cookies a million! :D