The preparation couldn't be faster and the taste couldn't be better! :)
I adore any type of apple cake, it must be my favourite type od desserts.
I've recently stumbled upon the recipe for an irish apple cake, it looked so good I just had to make it on my own.
So, here it is....my version of this delicacy.
QUANTITY
22
diameter of cake mold
650 g apples (about 4 of them)
1 tsp ceylon cinnamon
8 g bourbon vanilla sugar
370 g spelt flour (white or wholegrain, or a mix of both)
100 g coconut palm sugar
45 ml agave/rice syrup
130 ml extra virgin coconut oil
2 tsp baking powder
3 eggs
a pinch of Himalayan salt
100 ml plant milk, I used soy milk which is recommended because it's thicker in consistency
lemon zest of half or whole lemon
Baking cake mold - 22 cm.
*Sprinkle some Demerara sugar/Icing sugar or bourbon vanilla sugar on top.
The original version doesn't contain lemon zest, nor vanilla, but it's prepared with cloves and nutmeg. Try out both versions, depending on what you have at home at the moment.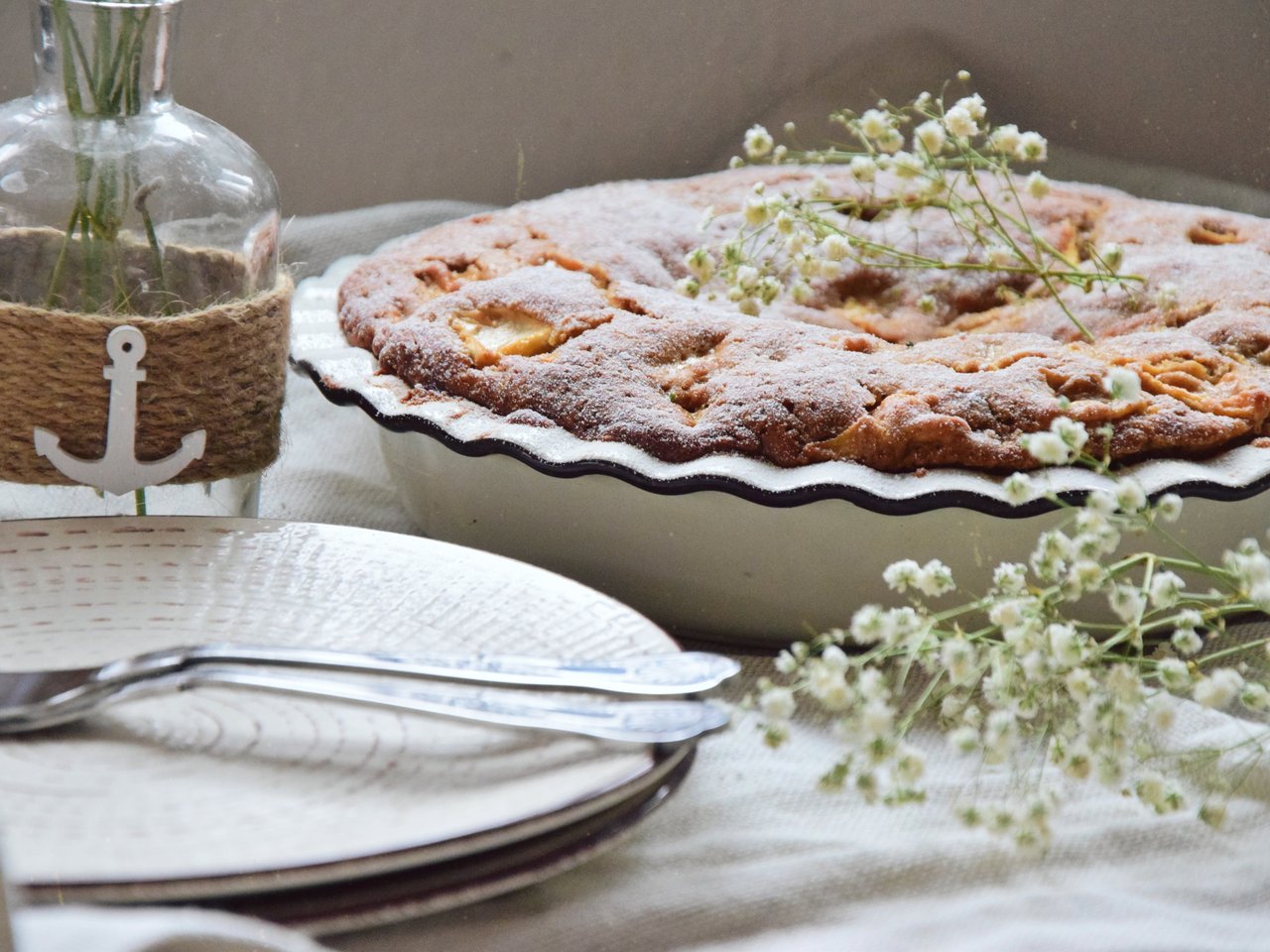 Wash and peel the apples, chop into bigger chunks-cubes.
Place them in a bowl and sprinkle the cinnamon, bourbon vanilla sugar or cloves/nutmeg (instead of vanilla) all over them and stir.
In a different bowl combine the flour, baking powder, sugar and syrup, then add the room temperature coconut oil. Stir and work the dough with your hands.
Add the apples into the mixture and incorporated them well in the flour mix, beat the eggs with the milk, salt and lemon zest aside.
Pour in the liquid mixture, stir well until all ingredients are well incorporated. Use a spoon first and finish the process with your hands.
Pour the mixture in a round cake mold lined with parchment paper and bake on 170-175C degrees for about 50-55 minutes, depending on the oven. The cake should absolutely not get a dark crust and should not be sticky on the inside. It should rise high and be soft once sliced.
Be careful so the cake is evenly baked.
I made the cake a few times in different kichtens and the oven affected the duration of the baking.
If you see that after half an hour the cake is getting a stronger brownish crust, cover the cake with alluminium foil and continue baking until the end.
Also, make sure the cake is ready by doing a test with a toothpick.
Leave the cake for about 10 minutes or more in the mold, before transfering it to a serving platter.